7PM Friday night, June 23rd
vs. Stratford Fire Department
9-inning exhibition game
FINAL-TIE
1
2
3
4
5
6
7
8
9
R
H
E
STFD FIRE DEPT
1
0
0
2
0
0
1
0
0
4
8
3
BRAKETTES
3
0
0
0
1
0
0
0
0
4
7
1
Batteries: SFD- Brandice Balschmiter, Kaysee Talcik (6) and Jenn Vazquez; Brakettes- Nicole Williams, Abby Abramson (6) and Hannah Cooper
Homerun: SFD- Mike Bruneau; Brakettes- Denise Denis
BRAKETTES, STRATFORD FIRE DEPARTMENT SCHEDULE BENEFIT GAME

STRATFORD - June 19 - Thanks to a sudden opening in their schedule, the Stratford Brakettes have scheduled a benefit, nine-inning softball game with the Stratford Fire Department. The game will be played Friday at 7 p.m. at Frank DeLuca Hall of Fame Field with all proceeds from ticket sales, both presale and at the door, going to the family of Jason Carrafiello, the late Stratford firefighter who died tragically last Dec. 28.

"When Mike Camperlengo (Stratford FD) contacted me several weeks ago, we didn't have any openings in our schedule," said Brakettes General Manager Bob Baird. "Once the New York Swag notified me last week that they were having difficulty fielding a team this early in the season, thus cancelling doubleheaders Friday and Saturday nights, I called Mike and we were able to set it up."

Since the Fire Department team plays in a slow pitch league and no one on their roster pitches fastpitch, the Brakettes will be providing them with one of their pitchers and a catcher. "It's an exhibition game for fun and for an extremely good cause," said Camperlengo.

"I hope we raise a lot of money for Jason's family. He was a great guy who was very involved in youth programs and in our community. He was always thinking of helping others," added Baird. Carrafiello, 38, is survived by his wife Jessica, son Brian and daughter Caitlyn.

"This is another example of how the Fire Department and Brakettes continue to show their concern for our town and the people in it," added Camperlengo.

In addition to the game, there will be a special home run derby with contestants trying to hit the ball over the fence for a donation off Brakettes pitching.

"We're always happy to participate in something for a good cause," said Brakettes Manager John Stratton. "We know what his teammates have experienced because we, too, lost one of ours a few months ago." Danni Kemp of Milford, a 19-year old infielder, died of a rare form of inoperable brain cancer after a gallant seven-month fight.

There will be a bucket for donations at the game as well. Gates to the field open at 5:45 p.m. Brakettes season passes and tickets will be honored at the game.

This is the only playing date for the Brakettes until they depart for Buffalo June 30 and the Aunt Rosie's Invitational July 1-2.
Brakettes are Pitcher Perfect in Return to Form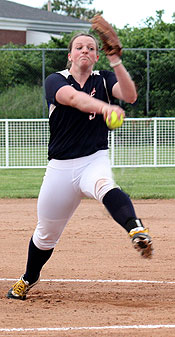 June 16- Nicole Williams and Abby Abramson (Cheshire High School) combined to throw a nine-inning perfect game Thursday night against the Connecticut High School All-Stars, as the Stratford Brakettes captured the annual matchup, 7-0.

After suffering a 6-3 semi-final defeat to the Lyons Spirit in the Cornfield Classic (Lyons, PA) on Sunday, the Brakettes were anxious to get back to their winning ways. That goal was achieved thanks to a well-rounded offensive attack and the pair of young pitchers, who completely shut down the opposition.

Williams (2-1, right photo) earned the win with a five-inning start, fanning five batters in the contest. Abramson (below) made her debut for the Brakettes against a team of her peers, facing both former Cheshire teammates and rivals in a four-inning relief appearance. She struck out 10 batters, including the last eight she faced.

The All-Stars are comprised of top graduating seniors from various high schools around the Nutmeg State.

Val Suto got things moving early for the Brakettes in the first inning with a leadoff single. She advanced to second on a wild pitch and moved over to third on a single by Brittany Younan. Denise Denis came up next and reached on a walk to load the bases. With one out, Casey Harding drove in Suto on a fielder's choice grounder for a 1-0 edge. Noel Lent followed and drove in Denis with a single to stretch the margin to 2-0.

Connecticut All-Star starting pitcher Kristi Van Meter (RHAM H.S.-Hebron) settled in after the first inning, shutting down the Brakettes in the second and third frames, while striking out four.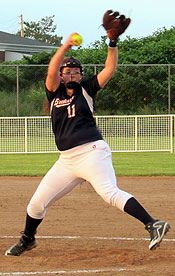 Stratford tacked on another score in the fourth, as Lent led off with a walk and took second on a ball in the dirt. Lauren Pitney drove a single through the right side to score Lent for a 3-0 lead.

Younan started the home fifth off with a single up the middle and quickly stole second base. She came home on a base hit by Denis, putting the Brakettes ahead by four runs. With one out, Casey Harding smashed a two-run home run to left-center, her first as a Brakette. The towering blast pushed the lead to 6-0.

Denis helped to add to the lead in the seventh, legging out on opposite-field double with one out. She moved to third on a passed ball, and scored the game's final run on a sac fly to left by Jolie Duffner. Denis went 2-for-3 in the game, with a walk, while scoring three runs and driving in one.

Sophia Barbour (Darien H.S.) pitched the fourth and fifth innings for the All-Stars, while Ali Dubois (Torrington H.S.) threw the last three and struck out two Brakettes along the way.

The Brakettes will face the Connecticut Eliminators Elite Friday night in a 7:00 doubleheader at DeLuca Field.

All 2017 Brakettes games are live video webcast at www.brakettes.com.

Thursday night, June 15th
vs. CT H.S. ALL-STARS
1
2
3
4
5
6
7
8
9
R
H
E
H.S. ALL~STARS
0
0
0
0
0
0
0
0
0
0
0
1
BRAKETTES
2
0
0
1
3
0
1
0
x
7
11
0
Batteries: All-Stars- Kristi Van Meter (L), Sophia Barbour (4), Ali Dubois (6) and Jo Hillman, Molly Keshin (4), Madeira Alexander (6); Brakettes- Nicole Williams (W, 2-1), Abby Abramson (6) and Megan Hodgdon, Jenn Vazquez (6)
Homerun: Casey Harding (1)
--- NEXT BRAKETTES GAME ---
July 1-2
at Aunt Rosies's Tournament
Buffalo, NY
Video Archive on