ROSTER
LINESCORES
STATS
PRIOR NEWS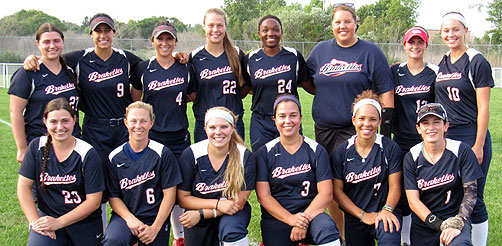 2017 STRATFORD BRAKETTES SEASON TICKETS ARE ON SALE NOW

The Stratford Brakettes have announced that 2017 season tickets are now on sale. The team's opener is set for Friday, June 2 against the Rock Gold of Newton, PA, at Frank DeLuca Hall of Fame Field. This year marks the 71st consecutive season of play for the Brakettes.

For the seventh consecutive season the Brakettes have kept season ticket prices the same. And anyone who purchases a season pass will receive special discounts on all subsequent season tickets. Regular season box seats are $100, reserved with back rests (behind home plate) are $80 and first and third base bleacher seats are $60. All subsequent passes are one-half the listed price. In addition, anyone who buys a season ticket will receive a $5 discount on tickets for the 9th annual Women's Major Softball National Championship tournament August 10-13 at DeLuca Field and the Short Beach Recreation Complex.

For additional information or to order season tickets, contact the Stratford Brakettes at (203) 378-7262, or via e-mail, brakettesgm@gmail.com. Ticket forms may also be downloaded from the Tickets page. Walk-up game prices on game day stay the same at $5 for bleacher seats, $6 for reserved, and $8 for box seats. There is no parking charge.

Manager John Stratton will be back at the helm with former Brakettes outfield star Kristine "Botto" Drust the Associate Head Coach. This year is the Brakettes 30th season of play at Frank DeLuca Hall of Fame Field, where they moved to in 1988. During that span the team has won 16 national championships, finished runner-up three times and third place five times.


Brakettes Mourn Loss of Danni Kemp, One of Our Own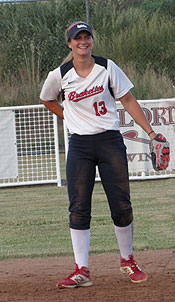 Stratford Brakette softball player Danni Kemp, 19, passed away on Friday, March 10th after a courageous seven-month battle with DIPG (Diffuse Intrinsic Pontine Glioma), a rare and inoperable form of brain cancer. The Brakettes send our thoughts and prayers to Danni's parents, Cliff and Melinda Kemp, her sister Alyssa, and all her family and friends.

Danni, a Milford native and Connecticut all-stater at Foran High School, played one year at Division I Stony Brook University. She appeared in six games for the Brakettes in 2015, before becoming a Brakette regular in 2016. Doctors only discovered the cancer last August after Danni experienced concussion-like symptoms after being hit in the helmet by a pitch during a Brakette game.

Without surgical options available to combat DIPG, Danni's family organized a GoFundMe page that helped raise over $129,000 for Danni's medical care. The local Milford and women's softball communities also mobilized with a series of fundraisers to help defray the cost of Danni's extensive treatments. Several former Brakettes organized a softball clinic to support Danni, and raised over $22,000 in one day alone.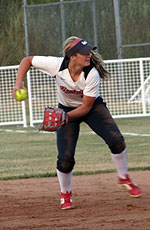 The Kemp family made two trips to Germany, so that Danni could receive experimental immunotherapy treatments. Danni met other young patients suffering from cancer in her travels, and the patients' families quickly became friends.

Danni was a promising young athlete, who had already beaten kidney cancer while just in high school. She inspired thousands after her diagnosis, never giving up despite the uphill battle. Danni's story was shared time and time again on social media, as the #DanniStrong movement spread internationally. High school and college softball teams from around the country came together to show solidarity with Danni by wearing the blue #DanniStrong bracelets. The Danni Kemp Cancer Support Group page on Facebook grew to over 3,000 members, and became an outlet for the sharing of stories among friends and families of other cancer patients.

Long-time Brakette manager John Stratton remembered Danni as a breath of fresh air. "Danni was just a super kid. She was a popular teammate and was always friendly to everybody. There's going to be a big void in the clubhouse without her. We will all miss her very much."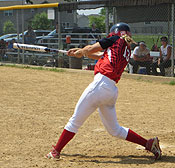 Brakette veteran outfielder Denise Denis said that Danni was like a little sister. "Danni was hilarious. She always had me laughing and shaking my head by saying something ridiculous, always keeping it light. We've got her family in our thoughts right now. She's going to be missed by many."

Danni left this world on Friday surrounded by her loving family, but she will never leave our hearts and minds. Even as she suffered, Danni brought all those around her closer together. May she rest in peace, while she continues to make all of us #DanniStrong.

Family and friends can pay their respects for Danni this Sunday, March 19th, from 1:00-5:00 at Cody White Funeral Home (107 Broad Street, Milford). A Mass of Christian Burial will be held 11 a.m. Monday, March 20 at Saint Agnes Church, 400 Merwin Avenue, in Milford.

Full arrangements can be seen by visiting the following link:

http://patch.com/connecticut/milford/funeral-arrangements-released-danni-kemp-19


| | | |
| --- | --- | --- |
| | | |
| Danni and parents Melinda and Cliff after CT High School All-Stars vs. Brakettes June 18, 2015. | | Danni, with parents and sister Alyssa, receiving Chelsea Cohen Courage Award Oct 17, 2016. |
A Message from Brakettes GM Bob Baird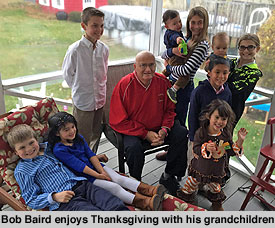 Dec 14 - The 2017 softball season is still five-plus months from starting, but there's been a lot going on with the Stratford Brakettes women's softball team.

For starters, the team's email, which has been in existence since 2005, was hacked on or around November 23rd. All team contacts received erroneous emails about me having to unexpectedly travel outside the country, and that my cell phone didn't work, but "please contact me via email to send me money".

For anyone who knows me, I don't travel outside the country anymore. When the email was sent, I was in Room #905 at St. Vincent's Hospital being treated for acute myeloid leukemia, a diagnosis that was made on October 17th. Heck, I very rarely travel outside of Connecticut, unless it's Brakettes-related.

Because I was hacked, I lost all my previous emails and contacts, which my daughter was able to recover during Thanksgiving. However, I can only see the name of the contact (prior to November 23) that sent them, and there is no content in my Inbox. Also, I can't receive any new emails on the former account, brakettes05@hotmail.com.

Therefore, a new email account has been set up. All future correspondence with me and the Brakettes should be addressed to brakettesgm@gmail.com. Our phone number, (203) 378-7262, and address, 185 Lordship Road, Stratford, CT 06615, remain unchanged. We ask anyone who has sent an email after November 23 to the former account, to please resend to the new brakettesgm@gmail.com.

Here's a quick update on my condition… I spent 37 days in the Cancer Ward at St. Vincent's and met some of the nicest people ever. Surprisingly, many of them knew about the Brakettes and women's softball. Those are the ones I gave free tickets to for 2017. I checked out of the hospital on Thanksgiving morning, the first time in that span I had left the confines of the 9th floor. I felt like I was in the witness protection program. Despite losing my hair (they assure me it will grow back, and it probably will be curly), I actually gained a pound in the hospital, and did not experience too many ill effects from the chemo. Getting sleep was a problem, but it was nice to finally get home!

I spent 2 1/2 great weeks at home with my family, resting and recovering. As planned, I re-entered St. Vincent's Hospital on Monday, December 12th for five days of consolidation chemotherapy. I have been assured by the doctors that I should be home for Christmas.

I want to thank everyone who called me, sent me cards, well wishes, and their thoughts and prayers. It was well received and it has contributed greatly to my recovery. Unfortunately, I didn't receive any money from the spam email (just kiddin). I will definitely be back in time for the open on June 3 at DeLuca Field.

Finally, I want to extend well-wishes to Danni Kemp and her family, as she continues her courageous battle to overcome brain cancer. We will continue to have Danni in our thoughts this off-season.

Happy Holidays to all and have a great softball day!

Bob Baird
Brakettes General Manager


Danni Strong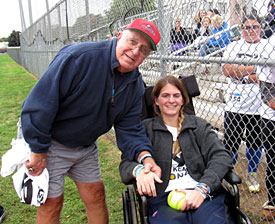 Oct 2 - The Brakettes were well represented Sunday at the Danni Kemp Home Run Derby fundraiser held by the Kemp family and friends at Washington Field, Milford.

Reuniting with their teammate Danni, who all were excited to see, were Brakettes Amber Radomski, Denise Denis, Cassie Ruscz and Britt Lampert, with Amber (women's open winner), Denise and Cassie doing some hitting.

Former Brakette Barbara Reinalda and Brakettes' scorer Mark Dempsey assisted with the pitching, while Rob Baird and Ilan Woll webcasted the proceedings, with many interviews included. Brakettes' webmaster Harlan Gage attempted some home run swings.

Also showing support for Danni were GM Bob Baird, Manager John Stratton (photo), recently retired Brakettes' President Pat Sanders, and many other members of the Brakettes family.

Past and present Foran High School (Danni's alma mater, class of '15) softball and baseball players participated, with Casey McCone (class of '13) hitting the longest home runs of the day (wow!). Danni's close friend Fallon Bevino (class of '14) brought her Sacred Heart softball team in support, and also won the collegiate division women's trophy.

Pictures taken by Brakettes' photographer Kathy Gage can be found on Facebook and Shutterfly.


Home Run Derby to be Webcast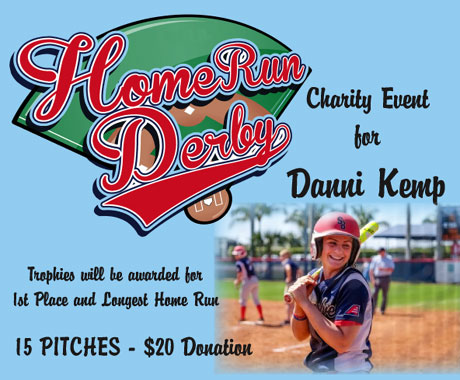 Sept 29 - Sunday's Home Run Derby Charity Event for Danni Kemp will be broadcast at brakettes.com.

The Brakettes broadcast crew will cover the Home Run Derby and have interviews with family, friends and teammates of Danni, in support of her as she continues to fight so courageously.

Please come by Washington Field in Milford, CT this Sunday between 1:00 and 5:00 to show your support for Danni and her family, or tune in to watch and spread the word... Several current and former Stratford Brakettes will also be present to show their support for Danni.


DANIELLE KEMP NAMED 2016 CHELSEA COHEN COURAGE AWARD WINNER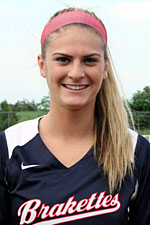 Sept 6 - The Fairfield County Sports Commission announced today that Danielle Kemp, a Milford resident and member of the Stratford Brakettes, is the 2016 Chelsea Cohen Courage Award winner. The 19-year-old Foran High graduate was recently diagnosed with an inoperable brain tumor.

Kemp will be honored at the Commission's 12th annual Sports Night awards dinner Monday, Oct. 17 at the Hyatt Regency Greenwich at 6 p.m. The 2016 Courage Award is sponsored for the first time this year by NBC Sports Champions, the pro-social initiative of NBC Sports Group.

The Fairfield County Sports Commission created the Chelsea Cohen Courage Award in 2006. It is named after the late Chelsea Cohen, a former Norwalk High soccer star who was the Commission's first Courage Award recipient and passed away in 2006 after a courageous bout with a rare form of cancer of the nervous system. The award recognizes the person in the sports community who has shown inspirational strength in battling life-altering obstacles.

Kemp, who this spring completed her freshman season with Stony Brook University's women's softball team, was a standout catcher and shortstop at Foran and in her first year with the legendary Brakettes. She is currently undergoing treatment at Yale-New Haven Hospital for the rare cancerous tumor in the pons region of her brain. During her high school career as a three-sport athlete, Kemp overcame kidney disease, which has since gone into remission.

The Kemp family has a GoFundMe page https://www.gofundme.com/2hc4x85g to help defray the major expenses associated with Danielle's treatment, which may include new clinical trials.

Past Courage Award winners are:

2015-Giacomo Brancato, cancer survivor and two-sport athlete at Fairfield's Warde High
2014-Nicole Graham, cancer survivor and two-sport standout at Greenwich High
2013-Amy Dixon, blind para-triathlete from Greenwich
2012-Paul Gorham, Sacred Heart University football coach
2011- SOC (SEAL) Brian R. Bill, United States Navy, Stamford native who was killed in action in Afghanistan
2010 - Ken Green, Danbury native and pro golfer who lost his leg in a car accident
2009 - James Hilaire, Stamford resident and Univ. of New Haven soccer goalie who suffered a major head injury
2008 - Mike Myers-Keitt, Fairfield Prep and Monmouth University basketball player
2007 - John Tartaglio, Para-athlete from Milford who was a Fairfield University student
2006- Jason Maiella, baseball player at Sacred Heart who was the first recipient under Cohen's name in 2006.


--- NEXT BRAKETTES GAME ---
OPENING NIGHT
7PM Friday, June 2
vs. Newtown (PA) Rock Gold

Video Archive on