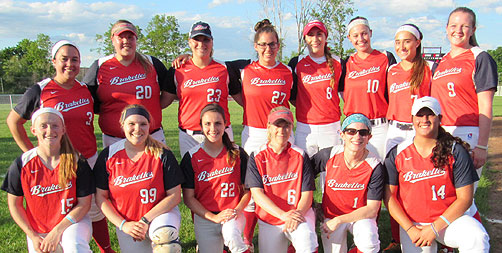 Saints Win First Women's Major Softball National Title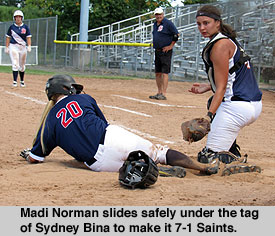 Aug 14 - The St. Louis Saints captured their first ever Women's Major Softball National Championship on Sunday with a 9-1 victory over the Bloomington (IL) Lady Hearts at DeLuca Hall of Fame Field in in Stratford, CT.

The Saints advanced to the Championship Game by sweeping through the double-elimination bracket without a loss, including a 10-3 win over the Nook 23 Gold (PA) in the Winner's Bracket Final on Saturday night.

Bloomington moved into the title game by outlasting the Nook 23 Gold in the Loser's Bracket Final Sunday morning in an all-time classic matchup, 3-2, in 15 innings. St. Louis also defeated the Lady Hearts in the Winner's Bracket Semifinals, 6-4, on Saturday afternoon.

Chelsea Ross (2-0 in WMS Bracket Play), picked up the win with a four-hit, complete game performance. She struck out nine batters en route to earning the Joan Joyce Award, handed out to the tournament's Most Outstanding Pitcher.

The Saints, who scored 60 runs in six tournament games, jumped up early on the Lady Hearts with four runs in the top of the first.

Bloomington starter Ali Domkuski retired the first two Saints, before Sammey Bunch reached on a fielding error. Madi Norman followed and singled to left-center, sending Bunch to third. Norman took second on the relay throw. Bailey Lange also came through with a single to left-center, bringing Bunch and Norman home for a 2-0 lead.

Lange stole second and came home on a base hit down the left-field line by Ross, giving the Saints a 3-0 margin. Ashley Anderson singled to left to push Ross to second, which prompted a pitching change. Sarah Finck came on in relief of Domkuski, but the rally continued, as Courtney Krodinger delivered the team's fifth-straight single to plate Ross for a 4-0 advantage.

The Saints tacked on two more tallies in the top of the second, again causing the damage with two away. Brittney Krodinger was hit by a pitch with one out, and after a grounder to short produced the second out of the inning, Bunch doubled to the fence in left-center to score Krodinger. Norman followed and drilled another double to the fence in the left-center gap, pushing Bunch across for a commanding 6-0 score.

After both teams traded scoreless innings in the third, Finck posted another scoreless frame in the top of the fourth for the Lady Hearts.

The Lady Hearts had their best chance at a comeback in the home fourth, when Haley Ginger doubled to left with one out. Tasha Alexander grounded back to Ross, and Ginger sprinted to third on the throw to first. Finck came through with a single up the middle to score Ginger, narrowing the hole to 6-1. Riley Phipps followed with a single to left, but Ross struck out the next batter to thwart the rally.

Norman singled to right to begin the bottom of the fifth and moved to second on a throwing error after a fly out to center. Ross reached on a base hit up the middle to put runners on the corners with one out, before Norman broke for home on a grounder to first by Anderson. The throw on Anderson's fielder's choice came home, but Norman slid in safely for a 7-1 lead (photo). Ross moved to second on the play, but was soon forced out at third on a fielder's choice by Courtney Krodinger.

With two outs in the fifth, Rachel Donald singled up the middle to bring home two more runs, closing out the scoring at 9-1.

Ross would not allow another run the rest of the way, forever securing her spot in the WMS annals. She finished the contest with three hits to go along with the dominant pitching performance.

Madi Norman was named the Micki Stratton Award recipient as the WMS Tournament MVP, as she finished the Nationals with a .500 batting average and two home runs. She also won the Pat Dufficy Award, given to the Home Run Queen of the tourney. Nikki Cuccio of the New York City Havoc also hit two home runs in bracket play, but in case of a tie, the award is given to the player whose team finishes higher in the final standings.

St. Louis manager Ed Martz won his first ever Women's Major National Championship after 63 years in softball, to go along with an ASA Class A division National Championship the Saints won in 1990.

In addition to Ross (pitcher) and first baseman Norman (utility pick), other Saints named to the All-WMS Tournament team were Payton Staggs (second base), Brittney Krodinger (third base), Sammey Bunch (shortstop), Bailey Lange (pitcher), and Courtney Krodinger (outfield).

The Bloomington Lady Hearts featured three players on the All-WMS Team, as Morgan Edwards (first base), Ally Wiegand (pitcher), and Kate McLean (outfield) took home the honors.

Rounding out the All-WMS Tournament squad were catchers Nikki Cuccio (New York City Havoc) and Halle Kisamore (Nook 23 Gold), outfielder Elaine Bedell (Lyons Spirit), utility pick Lauren Pitney (Stratford Brakettes-second base), and pitcher Reilly Gearhart (Nook 23 Gold).

Lyons Spirit centerfielder Bedell was also named the Allyson Rioux Award winner, given to the top defensive player in the tournament. NYC Havoc catcher Nikki Cuccio also took home the Diane Schumacher Award as WMS Batting Queen with a .533 batting average.

Thanks to everyone who helped to make the Ninth Annual Women's Major Softball National Championship a success! And congratulations to the St. Louis Saints! See you in 2018…

Video Archive
1
2
3
4
5
6
7
R
H
E
SAINTS
4
2
0
0
3
0
0
9
16
0
LADY HEARTS
0
0
0
1
0
0
0
1
4
2
Batteries: Saints- Chelsea Ross (W) and Rachael Donald; Lady Hearts- Ali Domkuski (L), Sarah Finck (1), Alexis Estes (5) and Sydney Bina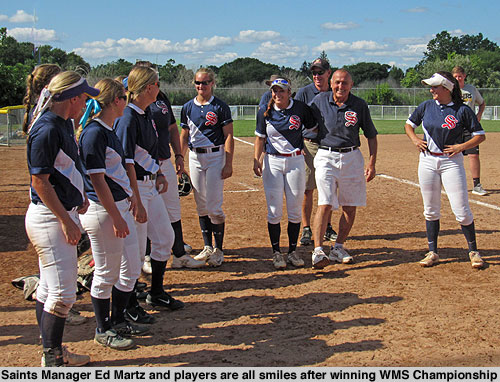 WMS Tournament, Bracket Game 11
9:30 PM Saturday, Aug 12th
Video Archive
1
2
3
4
5
6
7
R
H
E
SPIRIT
3
1
1
0
0
0
0
5
7
3
BRAKETTES
0
2
1
0
1
0
0
4
5
1
Records: Brakettes 40-5-1
Batteries: Spirit- Jenn Shellhammer (W) and Jessica Strong; Brakettes- Tatum Buckley (L, 3-1), Kaysee Talcik (3) and Megan Hodgdon
Homerun: Spirit- Jessica Strong, Liz Parkins; Brakettes- Courtney Cashman (1)
WMS Tournament, Bracket Game 9
2:30 PM Saturday, Aug 12th
Video Archive
1
2
3
4
5
6
7
R
H
E
BRAKETTES
0
0
0
1
0
0
0
1
7
1
NOOK 23 GOLD
0
0
0
0
2
0
x
2
3
1
Records: Brakettes 40-4-1
Batteries: Brakettes- Brandice Balschmiter (L, 14-2) and Hannah Cooper; Nook Gold- Brit Hook (W) and Halle Kisamore
Brakettes Punch Ticket to WMS Semifinals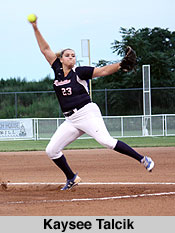 Aug 12 - The Stratford Brakettes picked up a 6-1 win over the Connecticut Eliminators in the quarterfinals of the WMS Nationals on Friday night at DeLuca Field, as Kaysee Talcik struck out 16 batters.

Val Suto beat out an infield single to start the bottom of the first and quickly stole second base. Suto advanced to third on a groundball out and scored when Denise Denis grounded out to second. The tally gave the Brakettes an early 1-0 edge, which would stand until the home fourth.

Jolie Duffner singled up the middle to start the Brakettes' fourth frame. She moved up a bag on a base hit by Lauren Pitney, and a bunt single by Brittany Younan loaded the bases. Tatum Buckley drove in Duffner with a sac fly to left, stretching the lead to 2-0.

Talcik (6-1) was perfect through four innings and limited the Eliminators to just two hits on the night. Julie Slavin roped a double to left-center to start the fifth and break up the no-hit bid. Talcik struck out the next three batters to thwart the attempted rally.

The Brakettes continued the momentum in the bottom of the fifth, scoring three runs for some more breathing room.

Hannah Cooper drilled a single while leading off the fifth, and was run for by Megan Hodgdon. Suto picked up another base hit to put two on, and a single by Britt Lampert again loaded the bases for the Brakettes. With one out, Duffner grounded out to second to push Hodgdon across home plate for a 3-0 margin. Pitney followed with a single to center, scoring Suto and Lampert for a 5-0 lead.

The Eliminators scored their only run in the top of the sixth, as Elizabeth Lombardo started the inning with a single to right. Amanda King followed and earned a walk, putting two on for Connecticut. After a Talcik strikeout, Genna Hartman grounded to the right side. The Brakettes got the force at second, but an errant throw to first on a double play attempt allowed Lombardo to score. The run put the Eliminators on the board and made it a 5-1 game.

Casey Harding added to the Brakettes' lead in the sixth with a solo shot, her second home run in as many days. The blast closed out the scoring at 6-1.

Talcik picked up two more of her 16 K's in the top of the seventh to retire the side in order and secure the win for the Brakettes.

The Brakettes will take on the Nook 23 Gold on Saturday afternoon at 2:30 at DeLuca Field in the WMS Winner's Bracket Semifinals. The St. Louis Saints and Bloomington (IL) Lady Hearts will meet in the other Saturday semifinal at 1:00 pm.

All 2017 WMS tournament games at DeLuca Field will be live video webcast at brakettes.com.

WMS Tournament, Bracket Game 4
7:30 PM Friday, Aug 11th

1
2
3
4
5
6
7
R
H
E
ELIMINATORS
0
0
0
0
0
1
0
1
2
0
BRAKETTES
1
0
0
1
3
1
x
6
12
1
Batteries: Eliminators- Emily Kurtzner (L) and Madeira Alexander; Brakettes- Kaysee Talcik (W, 6-1) and Hannah Cooper
Homerun: Brakettes- Casey Harding (4)
Video Archive on