Tuesday night, August 4th
vs. St. Louis Saints
First Game, 6:30 PM
Second Game

1
2
3
4
5
6
7
8
R
H
E
SAINTS
0
0
0
0
3
3
0
0
6
9
3
BRAKETTES
0
0
0
1
0
5
0
1
7
8
3
Batteries: Saints- Taylor Lockwood, Wendy Macias (6, L) and Brooke Rieman-Schneider; Brakettes- Laura Ricciardone (W, 13-2) and Mary Sciglimpaglia
Homerun: Saints- Wendy Macias; Brakettes- Taylor Moss (1)

1
2
3
4
5
6
7
R
H
E
SAINTS
0
0
0
0
0
0
0
0
3
3
BRAKETTES
0
0
2
1
2
0
x
5
9
2
Batteries: Saints- Alyson Spinas (L), Wendy Macias (5) and Brooke Rieman-Schneider; Brakettes- Brandice Balschmiter (W, 15-2) and Elena Bowman

BRAKETTES HOST ST. LOUIS SAINTS AT DELUCA FIELD IN TOURNEY TUNEUP

August 3, 2015 - Whenever the St. Louis Saints come to town, the Stratford Brakettes know they will be in for a tough game. Tuesday night should be no different as veteran Manager Ed Martz leads the Saints into Frank DeLuca Hall of Fame Field for a 6:30 p.m. doubleheader with the Brakettes.

The Saints enter with a 22-5 overall record, after finishing third in the National Softball Association's tournament last weekend in Peoria, IL. This is the seventh time since 2008 that Martz, now in his 56th year as manager, has brought the Saints to DeLuca Field to meet the Brakettes. It will be the sixth time the Saints are entered in the Women's Major Softball National Championship tournament, which runs Thursday through Sunday at DeLuca and the Short Beach Rec Complex. They have finished runner-up five times, including last year when they lost to the Brakettes in the finals.

Prior to last year's WMS event, the Saints split a pre-tournament doubleheader with the Brakettes, losing the opener 4-2 and then beating 2014 ace Allyson Fournier 5-3 in the nightcap as they scored three runs in the top of the seventh inning. That victory snapped the Brakettes' record home field winning streak at 241 games.

"Ed always puts together a solid team," said Brakettes Manager John Stratton, who has piloted this year's team to a 36-6 overall record and currently rides a 22-game winning streak. He has his two top pitchers from last year back, Taylor Lockwood and Wendy Macias, who owns the win over the Brakettes.

"We have gone through a little rebuilding job this year. While we lost virtually our entire infield, we still have a very talented team," added Martz, whose team finished third in the inaugural WMS tournament in 2009. Kelly Kapp and Lockwood are two all-tournament team selections from the 2014 WMS tourney.

The Brakettes tuned up for the tournament by sweeping the Lyons, PA, Spirit 8-1 and the NYC Havoc 9-1 on Sunday in Staten Island, NY. They pounded out 26 hits in the twin-bill sweep that saw Laura Ricciardone (12-2, 0.91 ERA) and Brandice Balschmiter (14-2, 0.32) pick up the wins. Sydney Matzko (9-2, 1.59) is the other member of the Brakettes' dynamic pitching staff.

Since the Brakettes lost a record five straight games to Team Canada (June 25-27) they have not lost. "Those losses made our season," added Stratton. "It showed our new kids how hard you have to work to be successful. Nothing is just given to you at this level." Team Canada proved to be the real deal as they handed Team USA its only two setbacks this summer, including a 4-2 defeat in last week's Pan American Gold Medal game.

The 2015 batting title race figures to be a two-way battle between center fielder Val Suto (.441) and DH/outfielder Brittany Lampert (.435) of Shelton. Right fielder Denise Denis (.385), left fielder Katie Petroski (.377) of Seymour, infielder Sarah Bencivenga (.368) and Norwalk's Mary Sciglimpaglia (.362) are the other top hitters.

Denise has a comfortable lead with 43 RBI, while Bencivenga and shortstop Emily Lochten are next with 32 followed by Torrington's Cassie Ruscz with 30 and catcher Elena Bowman with 28. Bowman has seven home runs and trails all-time leader Denis by one.

The Brakettes will continue their policy of admitting all youth league teams, boys and girls, and their coaches free throughout the tournament. All WMS games played at DeLuca Field will be streamed on the Brakettes website, www.brakettes.com.

The 7th annual WMS tournament begins Thursday with eight pool play games on tap, followed by three more Friday before the start of bracket play. Opening ceremonies start at 5:45 p.m.

Sunday, August 2nd
at The College of Staten Island

2:25 PM vs. Lyons Spirit

4:15 PM vs. NYC Havoc


1
2
3
4
5
6
7
R
H
E
BRAKETTES
0
0
0
5
0
3
0
8
16
2
LYONS SPIRIT
0
1
0
0
0
0
0
1
6
0
Batteries: Brakettes- Laura Ricciardone (W, 12-2) and Mary Sciglimpaglia; Spirit- Jenn Shellhammer, Danielle Thacker (4, L), Liz Parkins (6) and Kim Fryer
Homerun: Brakettes- Mary Sciglimpaglia (1)

1
2
3
4
5
6
7
R
H
E
BRAKETTES
1
0
3
0
0
1
4
9
15
1
NYC HAVOC
1
0
0
0
0
0
0
1
7
1
Batteries: Brakettes- Brandice Balschmiter (W, 14-2) and Elena Bowman; Havoc- Alyson Chiaramonte (L), Nicole Flint (7) and Linsey DeDomenico
Homerun: Brakettes- Elena Bowman (7)
BALSCHMITER, DENIS PROVIDE LEADERSHIP FOR BRAKETTES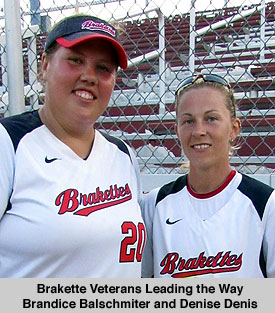 July 22, 2015 - Veteran leadership is what Stratford Brakettes Manager John Stratton attributes to this year's success. Despite the loss of several long-time players and the fact that the team has 11 new players this season, the Brakettes have hardly missed a beat with a 28-6 overall record, following last weekend's USSSA Invitational championship.

The two veterans most responsible for providing that leadership are ninth-year pitching phenom Brandice Balschmiter of Newark, NY, and 11th-year outfielder Denise Denis of Saratoga Springs, NY, who now resides in Stamford. There is a common denominator for both players, as they achieved All-America status while playing at the University of Massachusetts.

"What more can you say about Brandice and Denise," said John Stratton. "Year in and year out they continue to put up some impressive numbers. They have carried our team this year, but more importantly, they have assumed a leadership role on the field. I couldn't be happier."

Both players will be in action this week as the Brakettes quickly move toward the post-season. The Brakettes play Thursday night in a split doubleheader against the Stratford Breakers at 7 p.m. and the CT Seahawks at 8:30 at Frank DeLuca Hall of Fame Field. This is the Brakettes' final home weekend of the season before they begin their title defense in the 7th annual Women's Major Softball National Championship tournament August 6-9. Riding a 14-game win streak, the Brakettes will host the Mass Pride in doubleheaders Friday and Saturday nights at 7 p.m.

Manager John Stratton's club travels to New York for twin-bills August 1-2 against the Queens Lady Rangers and the NYC Havoc. They will play host to the St. Louis Saints on August 4 in a pre-tournament doubleheader at 6:30 p.m. at DeLuca Field.

How good is Balschmiter, who was the fifth overall pick in the 2009 National Pro Fastpitch draft by the Chicago Bandits? A look at her numbers will provide the answer. She is 11-2 this year with a 0.31 ERA and 108 strikeouts in 89 innings of work. The 6-foot-2 Balschmiter, a two-time All-America at UMass, stands at 146-11 in her career, having just passed Rusty Abernethy (145-40) last weekend to move into sixth place all-time in the Brakettes record book. The only people ahead of her are Barbara Reinalda, Joan Joyce, Kathy Arendsen, the late Bertha Tickey, and Donna LoPiano, all members of the National ASA Hall of Fame.

Denis began her career with the Brakettes in 2005 and played in the pro league the following year with the Connecticut Brakettes. She is third in hitting this year with a .400 average, while she leads the club with seven home runs and 36 RBI. Last weekend Denis, the Brakettes all-time home run leader, reached the 100-HR plateau by hitting home runs in three games Saturday.

In addition to her home run leadership, Denis will surpass Dot Richardson (542) and move into 11th place in games played this weekend. She is second in career runs with 543, sixth in hits at 631, having just passed Diane Schumacher, and fifth in both doubles and triples.

"We are so young this year and Brandice and Denise, both of whom have announced they will play again next year, have taken it upon themselves to be the leaders," added Stratton, who is hoping to lead the Brakettes to their sixth straight WMS title.

Tournament passes for the WMS championship event will be on sale at the remaining Brakettes home games.

--- NEXT GAMES ---
6:30 PM Tuesday, Aug 4
vs. St. Louis Saints (2)