Friday night, July 21st vs. Dutchess Debs
First Game, 7:00 PM - FINAL
Second Game - FINAL

1
2
3
4
5
6
7
R
H
E
DUTCHESS DEBS
3
0
0
0
0
0
1
4
6
2
BRAKETTES
0
1
3
3
0
1
x
8
11
2
Batteries: Debs- Abby Canning (L) and Jackie Macak; Brakettes- Nicole Williams (W, 9-1) and Jenn Vazquez
Homerun: Brakettes- Kaysee Talcik (2)

1
2
3
4
5
6
7
R
H
E
DUTCHESS DEBS
0
0
0
1
0
1
3
4
BRAKETTES
5
0
0
3
1
9
7
1
Batteries: Debs- Carly Bilchak (L) and Jess Syska; Brakettes- Brandice Balschmiter (W, 8-1) and Hannah Cooper
Homerun: Brakettes- Lauren Pitney (4), Gabby Laccona (2)
Talcik, Abramson Save the Day for Brakettes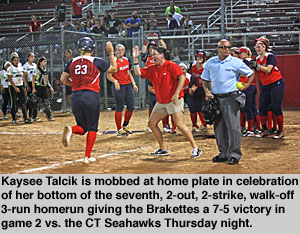 July 21 - The Stratford Brakettes swept a doubleheader from the Connecticut Seahawks on Thursday night at DeLuca Field, but the pair of wins did not come easy for the local favorites. After a 12-4 run-rule victory in game one, the Brakettes trailed the Seahawks in the nightcap, 5-4, and were down to their last strike with pitcher Kaysee Talcik at the plate.

Talcik blasted an opposite field, three-run home run to leave the stunned Seahawks on the field and give the Brakettes an improbable 7-5 victory. It was the first homer as a Brakette for Talcik, who had just one hit in seven at-bats on the season prior to the game-winner.

Abramson (4-0) was the third pitcher of the contest for Stratford when she entered at the start of the third inning, with the Brakettes trailing, 5-2. She shut down the Seahawks the rest of the way, striking out seven batters in five innings to earn the win.

Talcik also picked up the win in the first contest, as she improved to 4-1 on the season. She struck out seven, while surrendering six hits and a walk.

The Brakettes were quickly off to the races in the opener, as they plated four runs in the bottom of the first inning. With two outs in the frame, Denise Denis walked and stole two bases. After Jolie Duffner worked a walk off Seahawks starter Olivia Vadas, Denis scampered home on a single by Lauren Pitney.

Noel Lent came up with two runners on and crushed her first homer as a Brakette to left-center. The towering, three-run dinger gave the Brakettes an early 4-0 cushion.

Neither team could manage a score for the next three innings, until the Seahawks got on the board in the fifth.

Samantha Schiebe led off the top of the fifth with an infield single, and was moved to second on a sac bunt by Kayla Resto. Meagan McFarland singled up the middle to push Schiebe to third, and took second on the relay throw home. The throw from center scooted away from the cutoff, sending Schiebe home for Connecticut's first run. McFarland ended up at third on the error, and scored on a sac fly by Brittany Romero, pulling the Seahawks to within 4-2.

Val Suto started another Brakette rally in the home fifth with a bunt single and a steal of second base. Denis delivered an RBI single up the middle, scoring Suto for a 5-2 margin. Jolie Duffner followed and lined a two-run shot over the fence in right-center, her second homer of the season. The blast extended the lead to 7-2.

Pitney came up next and crushed a homer of her own, a solo shot to left-center, making it an 8-2 game. It was Pitney's third long ball of 2017.

The Seahawks again closed the gap in the top of the sixth, when they scored two more.

Alexa Bacoulis doubled with two outs in the inning, and Kaitlyn Flood smashed a two-run homer to pull the Seahawks within 8-4.

Abramson led off the bottom of the sixth for the Brakettes with a walk and reached second on a wild pitch. Casey Harding singled to send Abramson to third, and a walk by Megan Hodgdon loaded the bases.

Amber Radomski grounded into a fielder's choice, which saw Abramson forced out at home. The Seahawks tried to get Radomski at first, but the throw caromed away, allowing Harding to score. A wild pitch sent Hodgdon home for a 10-4 game, and pushed Radomski to second.

Gabby Laccona followed with her first home run as a Brakette, a two-run shot to center, which gave Stratford a 12-4 run-rule victory in six innings.

The Seahawks took the early lead in the nightcap, as they went up 1-0 in the first frame.

Romero led off with a single and went to second on a wild pitch. She scored on a long fly ball to right, which was uncharacteristically dropped by Denis. The unearned run made it 1-0, but the Brakettes came right back in the bottom of the frame.

Laccona tripled with one out in the first and scored on a groundout by Denis, tying it up at 1-1. Duffner singled and Pitney walked, and a double by Lent scored Laccona for a narrow, 2-1 Brakette lead.

Connecticut returned the volley and scored four in the second inning, knocking starter Nicole Williams out of the game.

Schiebe doubled to start the second and went to third on a wild pitch. Resto singled up the middle to drive her in and tie it up at 2-2.

Caley Ruggiero followed and singled to right, sending Resto to third on the play. McFarland reached on an infield single, scoring Resto and again putting the Seahawks up on top, 3-2. Talcik came on in relief after the base hit, but Romero promptly singled up the middle to plate Ruggiero for a 4-2 lead.

After the ball was misplayed in centerfield by Suto, McFarland raced to third, and Romero headed to second. McFarland sprinted home on a passed ball, but was tagged out at home after Hodgdon got a beneficial bounce off the backstop and gunned it to the Talcik at the plate.

Romero moved up to third on the play and scored when Nicole Koshes reached on a base hit, extending the Seahawks' lead to 5-2.

Pitney started off the fourth by reaching on a fielding error by Connecticut starter Schiebe, and took second on the play when a late throw to first kicked away from the bag. With two outs, Harding singled through the hole on the left side to score Pitney, narrowing the gap to 5-3. Hodgdon singled to put two on, and Radomski drove Harding in with a base hit of her own, pulling the Brakettes to within a run at 5-4.

The Brakettes and Seahawks traded scoreless innings in the both the fifth and sixth, before Stratford's late rally in the seventh.

Harding started the final rally with a one-out double down the line in left. Hodgdon walked to put two runners on, but after a pop-up by Radomski in foul territory was hauled in for the second out, the Brakettes were down to their last out.

Talcik fought hard at the plate against Scheibe, and despite falling behind with a 1-2 count, came through with the Brakettes down to their last out. Her three-run home run provided the most dramatic finish of the 2017 season and gave the home team a wild and unlikely, 7-5 decision.

The Brakettes will return to action on Friday night at 7:00 with a doubleheader against the Dutchess (NY) Debs. The teams will also match up on Saturday for another twinbill at 7 pm.

All 2017 Brakettes games are live video webcast at brakettes.com.

Thursday night, July 20th vs. CT Seahawks
First Game, 7:00 PM - FINAL
Second Game - FINAL

1
2
3
4
5
6
7
R
H
E
CT SEAHAWKS
0
0
0
0
2
2
4
6
1
BRAKETTES
4
0
0
0
4
4
12
9
1
Batteries: Seahawks- Oliva Vadas, Brittany Romero (6), Vadas (6) and Kaitlyn Flood; Brakettes- Kaysee Talcik (3-1) and Megan Hodgdon
Homerun: Seahawks- Kaitlyn Flood; Brakettes- Noel Lent (1), Jolie Duffner (2), Lauren Pitney (3), Gabby Laccona (1)

1
2
3
4
5
6
7
R
H
E
CT SEAHAWKS
1
4
0
0
0
0
0
5
11
2
BRAKETTES
2
0
0
2
0
0
3
7
9
3
Batteries: Seahawks- Samantha Schiebe (L) and Alexa Milius; Brakettes- Nicole Williams, Kaysee Talcik (2), Abby Abramson (3, W, 4-0) and Megan Hodgdon
Homerun: Kaysee Talcik (1)
BRAKETTES HOST SEAHAWKS, DEBS BEFORE BATTLE OF SEXES IV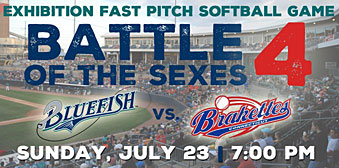 STRATFORD, July 19 - Playing their best softball of the season, the Stratford Brakettes open a six-game homestand Thursday against the Connecticut Seahawks 18U Gold at 7 p.m. at Frank DeLuca Hall of Fame Field. The Brakettes then play the Dutchess Debs Friday and Saturday in 7 p.m. twin-bills before Sunday's exhibition against the Bridgeport Bluefish.

The Battle of the Sexes IV takes place at the Ballpark at Harbor Yard at 7 p.m. Sunday as the Brakettes attempt to end a three-year losing streak.The Brakettes have tickets on sale for the game.

Entering Thursday the Brakettes own a 9-game win streak and carry a 21-3 overall record. Manager John Stratton is expected to utilize his entire pitching staff against the Bluefish, who will rely upon veteran men's major softball pitcher Nick French, who has been coaching women's college softball for the past decade. Brandice Balschmiter (7-1), Nicole Williams (8-1), Kaysee Talcik (3-1) and Abby Abramson (3-0) will divide the action. Only Balschmiter has pitched against the Bluefish.

"When Jaime Toole (former Bluefish general manager) called me to get him a pitcher for the inaugural contest in 2014, I contacted one of our friends in Pennsylvania. He recommended two pitchers to us, one was a 50-year old rather portly fellow and the other was Nick, who had already led a team to a National ASA Class A championship. I said give us Nick, which looking back was a good pick for the Bluefish and a bad one for us," joked Brakettes GM Bob Baird.

The majority of this year's team will be seeing the hard-throwing left-handed French for the first time. Only six players from last year's Brakettes team are back.

Paul Crisci's Seahawks are one of the region's top gold clubs, featuring several players from Masuk High School's SWC championship squad, including pitcher Samantha Schiebe and SWC tourney MVP Alexa Bacoulis. They have been bolstered by some members of their former 23U squad, including UConn pitcher Katie Koshes.

The Debs finished third in the eighth annual Women's Major Softball National Championship tournament last August at DeLuca Field, losing a pair of 2-1 games to the eventual runner-up St. Louis Saints. They are16-1 thus far with two tournament championships on their resume.

This year's WMS event is August 10-13 at DeLuca and Short Beach fields and tournament passes are on sale at all Brakettes home games.
Brakettes Produce Clean Sweep of Rock Gold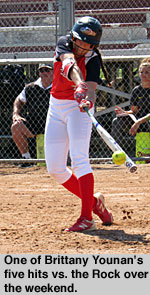 July 17 - Nicole Williams threw the Brakettes' third-straight one-hit shutout, leading the team to an 8-0, run-rule shortened victory over the Rock Gold on Sunday morning at DeLuca Hall of Fame Field. Stratford's bats exploded early in the contest, putting up six runs in the bottom of the first.

The Rock Gold's only true threat came in the top of the first, when Syd Stevenson led off with a walk and stole second. Morgan Petty also walked with two outs, putting two runners on, but Williams picked up a big strikeout to retire the side.

Val Suto led off the home first with an infield single and moved up on a base hit by Brittany Younan. Both runners advanced a bag on a wild pitch, and then a walk by Denise Denis loaded the bases for the Brakettes.

Jolie Duffner grounded into a 5-2 fielder's choice, which saw Suto forced out at home, but the Brakettes still had the bases loaded with one out. Lauren Pitney followed and was hit by a pitch, sending Younan home with the game's first run. Hannah Cooper also grounded into a force at home, on which Denis was retired.

With two outs and the bases still juiced, Jenn Vazquez roped an opposite-field single to right, scoring Duffner and Pitney for a 3-0 Stratford lead.

Gabby Laccona came up next and delivered a single to centerfield, scoring Cooper from second for a 4-0 margin. Courtney Cashman followed and ripped a single to right, plating two more, including Laccona, who scored all the way from first on the play.

The Brakettes' 6-0 advantage gave Williams (8-1) more than enough to operate, and she made quick work of the Rock Gold. She struck out five and walked two, and surrendered only a fifth-inning single to Katie Falatico along the way.

The Brakettes extended the lead in the third inning, when Duffner led off with a double. She took third and home on a pair of wild pitches to push the margin to 7-0.

Suto again set the table in the bottom of the fifth, planting her third base hit of the day in left field. Suto stole second and went to third on a passed ball, and came home with the decisive run on a single by Younan, her second of the matchup.

The Brakettes return to action on Thursday night at 7:00 against the CT Seahawks. Stratford will also take on the Dutchess (N.Y.) Debs in a pair of doubleheaders on Friday and Saturday nights at 7:00.

The Fourth Annual Battle of the Sexes between the Brakettes and Bridgeport Bluefish (minor-league baseball team) will take place on Sunday night at 7:00 at the Ballpark at Harbor Yard, in Bridgeport, CT.

All 2017 Brakettes games are live video webcast at brakettes.com.

10:00AM Sunday morning, July 16th
vs. Rock 18 Gold (PA)
1
2
3
4
5
6
7
R
H
E
ROCK GOLD
0
0
0
0
0
0
1
0
BRAKETTES
6
0
1
0
1
8
10
0
Batteries: Rock Gold- Ashley Worrell (L) and MacKensie Compton; Brakettes- Nicole Williams (W 8-1) and Jenn Vazquez

Balschmiter and Talcik Twin One-Hitters Dominate Rock Gold 1-0, 8-0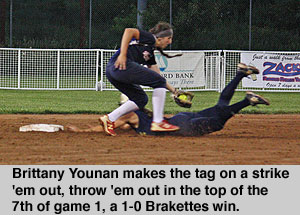 July 16 - by Ilan Woll - After two double headers cancelled lost to rain, the Brakettes were anxious to play some softball. Meanwhile, the Rock came to Stratford following a successful 4-2 record at the World Cup of Softball. The Brakettes' Brandice Balschmiter took the circle, facing a new Rock pitcher, Maggie Balint, who finished her Freshmen year at the University of Oregon.

Both pitchers dominated the first inning, with Maggie Balint striking out the side, and Brandice Balschmiter striking out two in perfect innings.

For the second frame, the Brakettes threatened when, with one out, Lauren Pitney and Hannah Cooper walked, but were unable to score.

In the top of the third, the Rock had their best opportunity, as Ashley Worrell walked with MacKenzie Compton running for her. Compton then stole second and took third after Julia DaCosta hustled out an infield hit. Brandice then struck out the next batter. Afterwards, a stolen base attempt was thwarted by a quick throw from Cooper to Pitney, tagging out the advancing runner to end the threat.

Stratford also failed to convert an opportunity in the third inning off of new pitcher Sarah Magro. With two outs, Val Suto's speed produced an infield hit, followed by a bloop into left field for Brittany Younan, and a Denise Denis infield single. Nagro however, retired the last batter with a ground ball to second.

After each team had a baserunner in the fourth, and a quick Rock fifth inning, the Brakettes led the bottom of the frame with Casey Harding walking and stealing second. Suto then bunted her to third base, and Younan drove her in with a line drive single to centerfield. This was the only run of the game as neither team threatened again.

Brandice Balschmiter advanced to 7-1 on the season, striking out twelve and walking three, allowing just an infield single. Brit Younan was the only player with multiple hits in the game. She also had the only RBI for the opener.

For the nightcap, Kaysee Talcik returned to Stratford after pitching for the Puerto Rican national team in the World Cup of Softball. Ashley Worrell , about to start her senior year in high school, pitched for the Rock.

Kaysee Talcik established her dominance early, retiring the first eight hitters she faced before allowing the only hit of the game to the opposing pitcher. Talcik did not allow another baserunner in the game.

Offensively, Val Suto started the Brakettes first with a walk, and was sacrificed over by Brittany Younan. Jolie Duffner then singled to center, scoring Suto for the early lead.

In the second, Courtney Cashman was hit by a pitch. Alexis Bazos then walked with two outs, and Noel Lent would add another hit to the outfeld to score Cashman for the two run lead.

Stratford added three more in the third as Suto walked, and Younan added an infield hit. Denise Denis drilled an RBI single to left, scoring Suto. Jolie Duffner plated Younan with a sacrifice fly to deep center. Gabby Laccona then singled in Denis to add to the lead.

Noel Lent added a sixth run in the next frame as, following a single to left, Megan Hodgdon drilled a grounder to rightfield. Suto's line drive to center brought in Lent.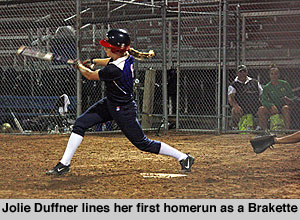 With one out in the fifth, Duffner, who had produced a number of doubles and triples, finally found the home run swing (photo), launching a curve ball over the right centerfield fence to bring the Brakettes one run from the run-rule victory. Lauren Pitney followed up with a single. Cashman then singled to center and, following a throwing error trying to get Pitney at third, she scored the final run for the Brakettes.

Kaysee Talcik (3-1) was dominant, allowing only the single baseruner, striking out five. Offensively, Jolie Duffner drove in a run in each of her at bats with a single, sacrifice fly, and home run. Along with Duffner, Noel Lent also had a multiple hit game.

The Brakettes return to action Sunday morning at 10:00am ET with a single game against the Rock Gold. Next week the Brakettes host the CT Seahawks Thursday and have double headers Friday and Saturday against the Dutchess Debs. Sunday, July 23, the Brakettes play the Bridgeport Bluefish in the fourth annual Battle of the Sexes. All games will be broadcast on Brakettes.com

Saturday night, July 15th vs. Rock 18 Gold
First Game, 7:00 PM
Second Game

1
2
3
4
5
6
7
R
H
E
ROCK GOLD
0
0
0
0
0
0
0
0
1
0
BRAKETTES
0
0
0
0
1
0
x
1
6
0
Batteries: Rock Gold- Maggie Balint, Sarah Magro (3, L), Ashley Worrell (6) and Nicole Marcon; Brakettes- Brandice Balschmiter (W, 7-1) and Hannah Cooper

1
2
3
4
5
6
7
R
H
E
ROCK GOLD
0
0
0
0
0
0
1
2
BRAKETTES
1
1
3
1
2
8
11
0
Batteries: Rock Gold- Ashley Worrell (L), Sarah Magro (3) and Nicole Marcon; Brakettes- Kaysee Talcik (W, 3-1) and Megan Hodgdon
Homerun: Brakettes- Jolie Duffner (1)
Brakettes and Rock Gold to Play Saturday, Sunday after Pair of Rainouts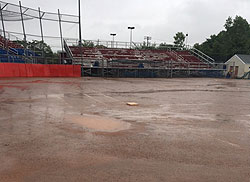 July 14 - After the Stratford Brakettes' Thursday night (vs. CT Seahawks) and Friday night (vs. Rock Gold) games were cancelled due to rain, the club will prepare to take on the Rock Gold (Holland, PA) in a doubleheader on Saturday night at 7:00 at DeLuca Hall of Fame Field. The teams will also match up on Sunday morning at 10:00 in a single contest.

The weather forecast in Stratford for the remainder of the weekend is much more favorable than the last few days, when temperatures soared to close to 100 degrees, then came crashing down into the 60s after torrential downpours and thunderstorms.

Manager John Stratton will have his entire pitching staff available for the first time this year with Brandice Balschmiter (6-1), Nicole Williams (7-1), Abby Abramson (3-0), and Kaysee Talcik (2-1) all expected to see action.

Rock Gold, coached by veteran Rick Waye, recently participated in the World Cup of Softball in Oklahoma City and finished with a 4-2 record, including a victory over nationally fourth-ranked Texas Glory. They lost to eventual champion Batbusters of Orange County, CA.

Stratford and the Rock Gold already faced off five times on Opening Weekend, with the Brakettes taking four out of the five decisions. The Rock Gold will depart early next week for an 18-Under Gold National Invitational Tournament in Southern California.

The Brakettes will be selling tickets throughout the weekend for their exhibition game on July 23 against the Bridgeport Bluefish at the Ballpark at Harbor Yard.

All three games (Saturday night and Sunday morning) will be live video webcast at brakettes.com.

--- NEXT BRAKETTES GAME ---
7:00 PM Saturday, July 22nd
vs. Dutchess Debs (2)
Video Archive on