Friday night, July 3rd
vs. New York Swag
First Game, 7:00 PM
Second Game

1
2
3
4
5
6
7
R
H
E
NEW YORK SWAG
0
0
0
0
0
0
0
4
5
BRAKETTES
0
1
4
1
0
2
8
11
0
Batteries: New York Swag- Francesca Casalino (L), Lindsey Larkin (3) and Dana Rae Goldstein; Brakettes- Sydney Matzko (W, 4-2), Shannon Smith (5) and Elena Bowman
Homeruns: Brakettes- Sarah Bencivenga 2 (4), Emily Lochten (2), Elena Bowman (3)

1
2
3
4
5
6
7
R
H
E
NEW YORK SWAG
0
0
0
0
0
0
2
2
BRAKETTES
1
0
7
3
x
11
10
0
Batteries: New York Swag- Lindsey Larkin (L), Francesca Casalino (4) and Briana Nardone; Brakettes- Brandice Balschmiter (W, 7-2) and Mary Sciglimpaglia

Brakettes Back to their Winning Ways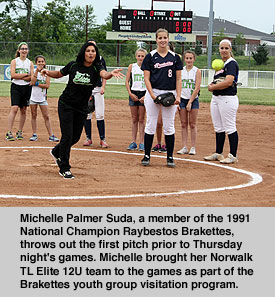 July 3, 2015 - The Brakettes ended their franchise-record five-game losing streak on Thursday night, sweeping the CT Seahawks 3-0 and 6-0 at DeLuca Hall of Fame Field in Stratford. Bouncing back from a tough five-game series with the highly regarded Canadian National Team, Stratford limited the Seahawks to six hits and did not allow a run in the doubleheader.

Sydney Matzko (3-2) struck out nine with no walks in the early game, hurling a two-hitter to pick up her third win as a Brakette. Matzko retired the last ten batters she faced, seemingly growing stronger over the course of the game.

Laura Ricciardone improved to 7-2 with a four-hit shutout in the nightcap, fanning eight Seahawk batters, also not surrendering a walk on the night.

Britt Lampert got the Brakettes going in the first contest, reaching base with a one-out walk in the first inning. She stole second to put herself in scoring position, and then came home on a single by Denise Denis for a 1-0 edge.

Seahawk starter Katie Koshes struck out 10 Brakettes in the outing, with the first six outs recorded all via the strikeout. She gave up just five hits, while walking five.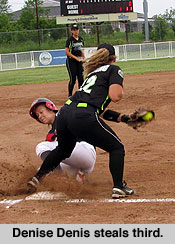 Stratford added two more tallies in the third to give Matzko some separation from the Seahawks, as Val Suto led off with a double. Suto won a long battle at the plate with Koshes, fouling off numerous pitches with a 3-2 count before planting the liner in left field.

Suto reached third on a single by Lampert, who took advantage of a napping infield to take second on the play. Denis followed with a sac fly to centerfield, scoring Suto and sending Lampert to third. Emily Lochten beat out an infield single, as Lampert raced home with the Brakettes' third and final run.

Matzko benefitted from some solid play behind her in the game, starting with a diving grab by second baseman Tatum Buckley in the first inning. Buckley's fully-outstretched catch to her left side snared a liner by Stephanie Appleberg with two outs and runners at the corners, keeping the Seahawks off the board.

Buckley also combined on a 4-6-3 double play in the second inning, quickly fielding a grounder and flipping to shortstop Lochten, who touched second and fired in time to Cassie Ruscz at first.

The Brakettes quickly went up on the Seahawks in the late matchup, scoring twice in the bottom of the first. Back-to-back singles by Suto and Lampert led to two runs, thanks to a double by Denis.

Lampert singled and Denis walked in the fifth frame, before they came home on a pair of passed balls for a 4-0 lead. Jordan Whitley singled and Sarah Bencivenga earned a base on balls, and then both scored on a single by Katie Petroski to close out the scoring at 6-0.

Ricciardone retired ten of the last 11 batters she faced to secure the victory for the Brakettes, who upped their record to 16-6 with the sweep.

Former Brakette (1991) Michelle Palmer Suda brought the youth team she coaches, the Norwalk TL Elite 12U and threw out the ceremonial first pitch before the start.

The Brakettes return to action on Saturday night at DeLuca Field at 7:00 with a doubleheader against the New York Swag.
Thursday night, July 2nd
vs. Connecticut Seahawks 23U
First Game, 7:00 PM
Second Game

1
2
3
4
5
6
7
R
H
E
CT SEAHAWKS
0
0
0
0
0
0
0
0
2
0
BRAKETTES
1
0
2
0
0
0
x
3
5
2
Batteries: CT Seahawks- Katie Koshes (L) and Kailey Kempf, Meagan Hodgdon (4); Brakettes- Sydney Matzko (W, 3-2) and Elena Bowman


1
2
3
4
5
6
7
R
H
E
CT SEAHAWKS
0
0
0
0
0
0
0
0
4
2
BRAKETTES
2
0
0
0
4
0
x
6
7
0
Records: Seahawks 18-2; Brakettes 16-6
Batteries: CT Seahawks- MacKenzie Joudoutis (L), Kaysee Talcik (5) and Teresa Marchitto; Brakettes- Laura Ricciardone (W, 7-2) and Mary Siglimpaglia

BRAKETTES OPEN HOME STAND; SEEK TO STOP RECORD LOSING STREAK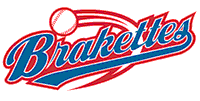 July 2, 2015 - STRATFORD - What's wrong with the Stratford Brakettes? They've lost five in a row. If you ask Manager John Stratton he will tell you, "nothing that a few wins won't cure." At this stage of the season they stand 14-6 overall, something unheard of during the past five seasons when the Brakettes rolled to a 306-8 overall record and five consecutive Women's Major Softball National Championships.

Last weekend talented Team Canada swept all five games from the Brakettes before leaving for the World Cup of Softball in Irvine, CA. The Brakettes open a four-game home stand Thursday night against the Connecticut Seahawks at 7 p.m. at Frank DeLuca Hal of Fame Field. On Friday the New York Swag comes to town for a 7 p.m. twin-bill. The previous record for consecutive losses was four back in 1976 when Stratton took over for ailing manager Ralph Raymond and led the club to an unexpected ASA National crown.

The Brakettes have a young and enthusiastic roster, but they do not resemble the powerhouse ball clubs of recent years. Since 2010 the Brakettes have compiled records of 57-1, 63-0, 68-3, 68-0, and 50-4. However, they have seen 38 players from those squads hang up their cleats or head to the National Pro Fastpitch league.

"I expect by the end of the season we will be the favorite at nationals (August 6-9 at DeLuca Field)," added Stratton. "You just don't recover all at once from what we've had to replace."

Since they began their torrid pace five years ago, the Brakettes have lost six players to the NPF, including last year's pitching ace Allyson Fournier (23-2, 295 strikeouts). Five-year pitcher Rachele Fico (94-1, 916 K's), pitchers Whitney Canion, Sara Plourde and Emily Weiman, and catcher Kristyn Sandberg (.479 average, 64 RBI) have also gone to the NPF.

Fico, Fornier, Bailey Sanders (36-1), Call (36-0), Canion (7-0), Sam Greiner (27-0), Weiman (10-0) and Plourde (1-0) combined for a 234-4 mound record. In addition, the Brakettes have said goodbye to four batting champions in Carly Normandin (.430 career average, 176 RBI), Becca Carden (.430, 24 home runs, 76 RBI), Alisa Heronema (.468), and Call (.457, 79 home runs, 263 RBI). Denise Denis, in her ninth year, won last year's batting title at .407. She is the all-time career home run leader with 97.

Stratton has had to replace his keystone combo of eight-year shortstop Mandie Fishback (.395 career average, 370 RBI) and six-year second baseman Ashley Waters (.383, 261 RBI). Jessica Mouse patrolled third base for six years and compiled a .422 average with 194 RBI, while two-year utility player Elise Fortier hit. 457 and hit 40 home runs and had 157 RBI.

Call, Waters, Fortier and Normandin all rank in the Top Eight in home runs all-time for the Brakettes, while Fishback is sixth all-time in RBI. And then there's Norwalk's Jill Cimminello (.325 career, 73 RBI), Newtown's Kate Bowen (.344, 104 RBI) and Brookfield's Mariel Schlaefer of Lauralton Hall fame (.337 average) who made big contributions during the recent surge.

While Stratton relies on veteran outfielder Denis and pitching standout Brandice Balschmiter (6-2 this year and 145-7 overall) to lead this year's club he is confident that others will step up. "We have already played the toughest portion of our schedule. It was a baptism under fire for our nine first-year players. I don't expect anyone to feel sorry for us because we will be back."

BRAKETTES BRIEFS- Team Canada opened play in the World Cup with a tough 3-2 loss to Japan, but they bounced back to defeat the U.S. Junior Women, 4-1. Canada manager Mark Smith was offered the chance to pitch for the Raybestos Cardinals back in 1977 but opted to play for the Lakewood, CA, Chameleons and he led them to two ISC World crowns. He is a member of both the ISC and Canadian Halls of Fame.



--- ANNOUNCEMENTS ---
STATS
--- NEXT GAME ---
NO GAMES JULY 4th

---
7:00 PM Thursday, July 9
vs. Stratford Breakers (2)