ROSTER
SCHEDULE / SCORES
LINESCORES
STATS
PRIOR NEWS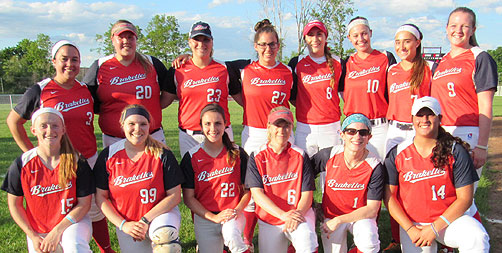 SPONSOR A HOLE FOR THE BRAKETTES/JOAN JOYCE "PITCH AND PUTT" GOLF TOURNAMENT

April 14 - The Stratford Brakettes have announced the date for the first annual Brakettes/Joan Joyce "Pitch and Putt" golf tournament on Saturday, July 7, 2018 at Stratford's Short Beach par-3 golf course. The shot gun format has two flights scheduled for 8:30 and 10 a.m.

Hole sponsorship is available for all nine holes for only $50 each. Sponsors will get their names listed in both the Brakettes regular season and national tournament brochures. In addition, they will receive the team's 7-day pass, which is good for ONE admission to seven regular season home games of your choice.

All proceeds from the event go directly to the operating costs for the Stratford Brakettes.

Joan Joyce is the greatest women's softball pitcher in history, having played her career with the Raybestos Brakettes from 1956-1975. She won a total of games 429 games in addition to capturing 8 national tournament Most Valuable Player Awards and being named first-team All-America 15 times.

Joyce is currently the highly successful softball coach at Florida Atlantic University in Boca Raton. After retirement from softball she played 19 years on the LPGA tour. She is hoping to attend the tournament, meet the participants and present the awards. Her status depends upon her full recovery from a hip injury suffered in January.

Please complete the Hole Sponsorship Form and return it to Bob Baird, General Manager, Stratford Brakettes, 185 Lordship Road, Stratford, CT 06615. The Brakettes are a registered 501(c)(3) and all donations are tax deductible.

Thanks for your consideration.
Bob Baird

STRATFORD BRAKETTES 2018 SEASON TICKETS ARE ON SALE

April 14 - The Stratford Brakettes have announced that 2018 season tickets are now on sale. The team's opener is set for Saturday, June 2 against the Lyons, PA, Spirit in a 7 p.m. doubleheader at Frank DeLuca Hall of Fame Field. This year marks the 72nd consecutive season of play for the Brakettes.

Brakettes management has kept the season ticket prices the same for the eighth straight year. And anyone who purchases a season pass will receive special discounts on all subsequent season tickets. Regular season box seats are $100, reserved seats with back rests (behind home plate) are $80, and first and third base bleacher seats are $60. All additional passes are one-half the listed price of the seat you purchase.

In addition, anyone who buys a season ticket will receive a $5 discount on passes for the 10th annual Women's Major Softball National Championship tournament August 2-5 at DeLuca Field and the Short Beach Recreational Complex.

For additional information or to order tickets, contact the Stratford Brakettes at (203) 218-1066, or via e-mail, brakettesgm@gmail.com. Ticket forms may be downloaded from the Tickets page. Walk-up game prices on game day also remain the same at $5 for bleacher seats, $6 for reserved, and $8 for box seats. There is no parking charge.

Manager John Stratton will be back at the helm, assisted by former Brakettes outfield star and current Cheshire High School Coach Kristine "Botto" Drust, the Associate Head Coach.

This year marks the 31st season of play for the Brakettes at Frank DeLuca Hall of Fame Field, where they moved prior to the start of the 1988 campaign. During that span the team has won 16 national championships, finished runners-up three times, and third place five times.

BRAKETTES/JOAN JOYCE GOLF TOURNAMENT SET FOR JULY 7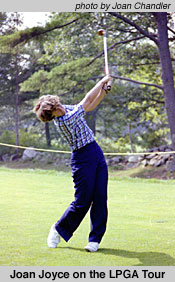 March 14 - The Stratford Brakettes have announced the first Brakettes/Joan Joyce 'Pitch and Putt' Golf Tournament will take place on Saturday, July 7, 2018, at the Short Beach Par-3 Golf Course. There are two flights at 8:30 and 10 a.m. All proceeds will go directly to the operating expenses of the world's most famous women's softball program.

Joan Joyce, the softball coach at Florida Atlantic University in Boca Raton, was a 15-time ASA All-American with the Raybestos Brakettes. The Waterbury, CT, native also was named the Most Valuable Player eight times in the national championship tournament. She won 429 games during her Brakettes career and is the team's all-time strikeout leader with 5,677. After she retired from softball, Joyce spent 19 years as a member of the LPGA Tour (1977-1995).

"It should be an exciting event," said General Manager Bob Baird. "We've been thinking about doing this for years and here it is." The nine-hole course is located one-half mile from Frank DeLuca Hall of Fame Field, the Brakettes home since 1988, and it overlooks scenic Long Island Sound.

Registration is $60 per golfer or $200 per foursome. The Brakettes are also soliciting holes sponsors for $50 each. There will be several contests, including closest to the pin on two holes. There will be a buffet lunch for all participants.

Brakettes Manager John Stratton, who spent many years assisting Joan at FAU, and all members of the 2018 Brakettes will be assisting in the running of the event, which is scheduled for rain or shine.

Joyce is hoping to attend, depending upon the status of her hip injury she suffered recently.

For details, directions and to register, download the Brochure/Application form. There are only 72 spots available. The deadline to register is July 1, or when the two flights are filled, whichever comes first. For additional information, contact GM Bob Baird at (203) 218-1066.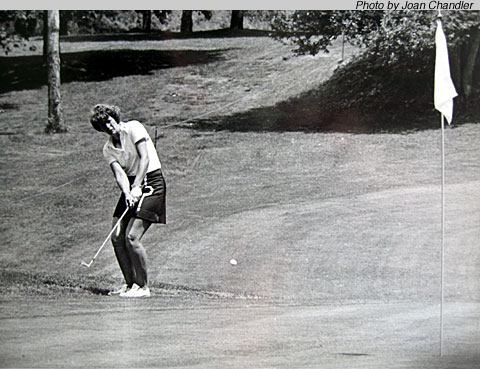 --- OPENING NIGHT ---
JUNE 2, 2018
Video Archive on