HOME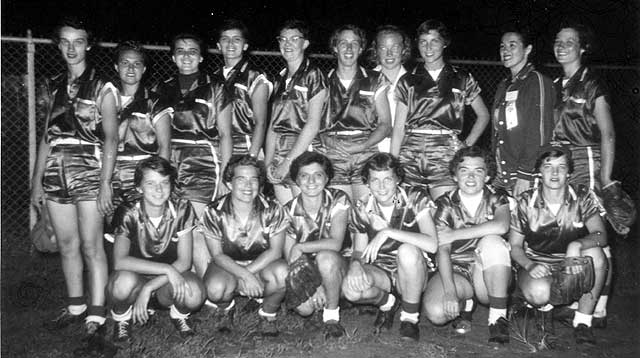 L-R, top row- Joyce Keatley, Ann Gregorini, Marie "Jo-Jo" Ottaviano, Brenda Reilly, Kathy Ries, Joan Wallace, Joan Kammeyer, Mary Hartman, Bertha Ragan, Micki Macchietto
bottom row- Joan Joyce, Edna Fraser, Ann DeLuca, Madeline Hartman, Mary Jane Hagan, Bev Mulonet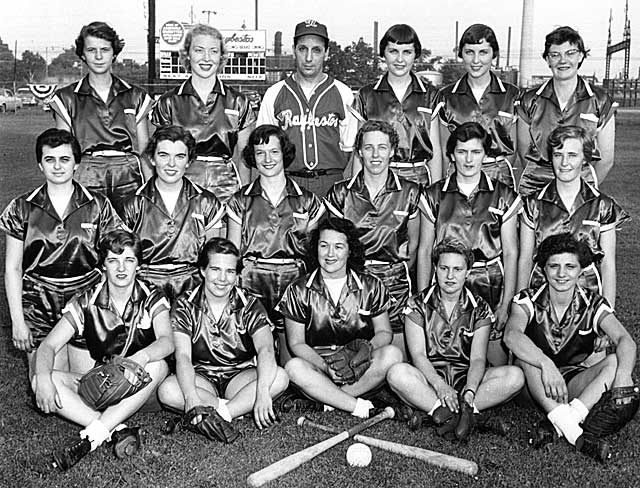 L-R, top row- Joan Joyce, Joan Kammeyer, Manager Bernie Kaplan, Madeline Hartman, Mary Hartman, Kathy Ries
middle row- Marie "Jo-Jo" Ottaviano, Mary Jane Hagan, Micki Macchietto, Joan Wallace, Brenda Reilly, Marie Heady
bottom row- Bev Mulonet, Edna Fraser, Bertha Ragan, Ann Gregorini, Ann DeLuca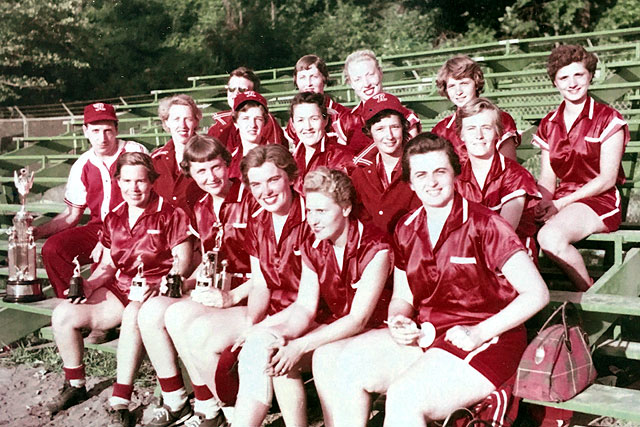 1956 Eastern Seaboard Women's Softball Champions
L-R, top row- Kathy Ries, Mary Hartman, Joan Kammeyer, Joan Joyce, Ann DeLuca
middle row- Manager Bernie Kaplan, Joan Wallace, Bev Mulonet, Bertha Ragan, Micki Macchietto, Marie Heady
bottom row- Edna Fraser, Madeline Hartman, Mary Jane Hagan, Ann Gregorini, Marie "Jo-Jo" Ottaviano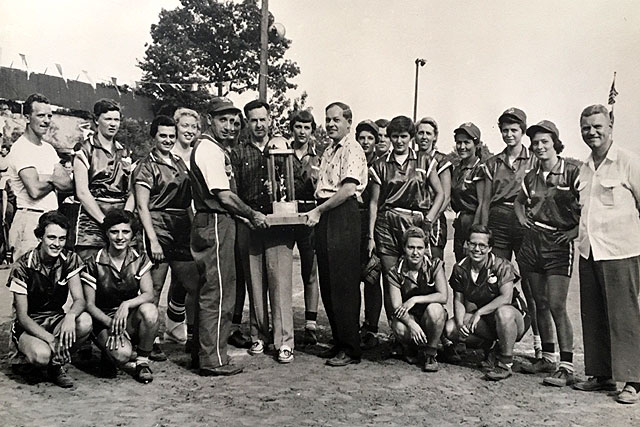 1956 North Atlantic Regional Champions
L-R, top row- unidentiffied, Kathy Ries, Marie "Jo-Jo" Ottaviano, Joan Kammeyer, Mary and Madeline Hartman (behind trophy presentation), Bev Mulonet, unidentified, Brenda Reilly, Joan Wallace, Bertha Ragan, Joan Joyce, Micki Macchietto, John E. Lindquist, Connecticut ASA Commissioner
at trophy presentation- Manager Bernie Kaplan, unidentified, William S. Simpson, General Manager Raybestos Division
bottom row- Joyce Keatley, Ann DeLuca, Ann Gregorini, Edna Fraser

Bertha Ragan, the nation's No. 1 pitcher, came east to join the Brakettes in 1956. Ragan's addition and the emergence of a 16-year-old phenom from Waterbury, CT, named Joan Joyce, is the foundation for an era in Brakettes' history.

In a 38-5 season, the Brakettes won the National Girl's Softball League title and their seventh New England Regional crown to earn a berth in the World Tournament in Clearwater, FL. Ragan pitched all six games as the Brakettes finished fourth.

Ragan pitched every inning and captured the tournament's Most Valuable Player award and was chosen an All-America. The Brakettes beat Fort Worth, TX, 2-0 and then lost to Kansas City, KS, 3-2. The next four games all went extra innings. Raybestos won three straight nine-inning thrillers, beating New Orleans, LA, 3-2; defeating Lancaster, PA, 4-3; and Portland, 4-3. The Buena Park, CA, Lynx then ousted the Brakettes 1-0 in a 17-inning marathon.

Catcher Micki Macchietto received honorable mention all-star acclaim. Joyce finished the season with a 4-1 overall record.