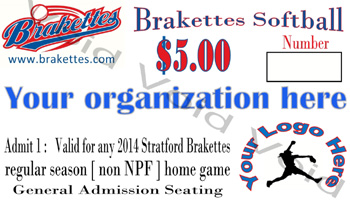 Sample 2014 Ticket

The Stratford Brakettes are again offering no-risk fundraising opportunities this year as part of our Community Outreach efforts. Your group could earn 60% of all revenues from regular-season tickets sold in advance. It is absolutely FREE to get started, and all unsold tickets can be returned at no cost.

We will provide your group with the fundraising tickets to distribute to your group members, which should then be sold at face value. General admission tickets are just $5 per double-header, so $3 from every ticket would go to your group! The Brakettes are a 501(c)(3), not-for-profit organization, so fundraiser ticket purchases are actually tax-deductible donations.

The feedback we have received from youth groups, churches, schools, softball teams and other community organizations has been very positive. Brakette General Manager Bob Baird announced the continuation of the promotion recently. "This promotion is a vital part of our Community Outreach efforts. It brings more fans to the ballpark, which is great for the game, but it also offers a great opportunity for so many local organizations to raise necessary funds in a tough time."

The seven-time defending WMS National Champion Stratford Brakettes have now completed 70 dominant seasons of women's fastpitch softball. Started in Stratford in 1947, the Brakettes' 28 ASA Women's Major National Championships are unparalleled in any sport; with three ISF World Championships, 23 National Hall of Famers, and 12 Olympians further emphasizing our importance to women's fastpitch softball. Come see the 2017 team and join us in our joint fundraising opportunity to benefit your organization and the Brakettes!

The Brakettes' 2017 season begins on June 2nd, so contact us to start raising funds for your group, today! Email us at brakettesmedia@gmail.com or call Brakettes' Media Director Rob Baird at (203) 521-7767 to learn more.