Brakettes Begin 70th Season with Sweep of Lyons Spirit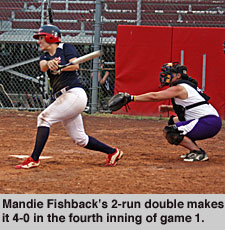 June 5, 2016 - The Brakettes kicked off their 70th season on Saturday night at DeLuca Field with a doubleheader sweep, topping the Lyons (PA) Spirit by 6-0 and 10-2 scores. The pair of wins included the 154th career victory for Brandice Balschmiter and the first for Patti Sciglimpaglia, who made history along with her twin sister Mary, in becoming the first sister duo to serve as the battery in a game for the Brakettes.

Balschmiter struck out seven in the complete-game shutout, while giving up five hits. She entered the season with a 153 career wins (against only 11 losses) and 1,405 strikeouts. Both marks put her in 6th place all-time in Brakette history. All five of the players she trails on both lists are ASA National Hall of Famers: Barbara Reinalda (first in wins with 441), Joan Joyce (first in strikeouts with 5,677), Kathy Arendsen, Bertha Tickey and Donna Lopiano.

Lyons starter Liz Gall matched Balschmiter in the first game through three innings, as neither team could tally a run. The fourth inning proved to be the pivotal frame, with the Spirit putting pressure on the Brakettes first.

With one out in the fourth, Elaine Bedell and Gall earned back-to-back walks. Danielle Kitchen singled to center to load the bases, but Balschmiter managed to get out of trouble. After a fly to center brought in the second out, Balschmiter struck out Megan Olsen looking, to keep Lyons off the scoreboard.

Lyons would come to regret the missed opportunity, as the Brakettes answered with four runs in the bottom of the fourth.

Denise Denis led off with a single to right, and moved to second on a sacrifice bunt by Hannah Cooper. The throw to first sailed high, allowing Cooper to reach safely and sending Denis to third. Denis came home with the game's first run on a wild pitch, which also moved Cooper into scoring position. Tatum Buckley walked to put two on, and then Jordan Whitley reached on a fielder's choice, as Cooper was forced out at third.

Player/coach Amber Radomski smashed a ground-rule double to left-center to give the Brakettes some insurance, as the one-hopper pushed Whitley to third and scored Buckley for a 2-0 edge. Mandie Fishback, who did not play at all in 2015 after eight straight seasons with the team, followed with a double of her own, scoring both runners for a 4-0 lead.

The Brakettes tacked on another run in the fifth, after Britt Lampert led off with a single. Denis reached on a fielder's choice and stole second, and then raced home on a base hit by Buckley for a 5-0 margin.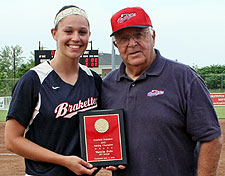 Danni Kemp walked to start the sixth and stole second base, before moving to third on a groundout. Val Suto singled to bring Kemp home, closing out the scoring at 6-0. Suto was honored before the games for being the 2015 Batting Queen (.465 average), and was presented a plaque by manager John Stratton (photo).

Stratford wasted no time at all in the nightcap, scoring four runs in both the first and second innings.

Suto led off the home first with an infield single and advanced on a groundout by Lampert. Denis pulled a single into right field, and Suto motored home for the first run.

Cooper followed with a single and Buckley walked, loading the bases with one out. Whitley responded with an opposite-field double to left, scoring two more for a 3-0 advantage. Fishback picked up another RBI with a single through the left side, stretching the lead to 4-0.

Suto started another rally in the second, reaching on a bunt single and stealing second. Lampert singled to score Suto for a 5-0 margin, and then took second base on the throw home. Denis crushed a double off the fence in left, just missing her first long ball of the 2016 campaign. The blast was enough to score Lampert for a 6-0 lead.

Buckley doubled to center to score Denis, and later came home on a base hit by Whitley, giving the Brakettes an 8-0 cushion heading to the third.

Patti Sciglimpaglia went the distance in the second game, fanning five batters along the way. She gave up just three hits, but got into a jam in the fifth inning after walking three and hitting a batter. Lyons would stave off an early exit by scoring two runs.

Maddy O'Donahue led off the inning with a single to right, and eventually scored when Elaine Bedell was hit by a pitch with the bases loaded. Jaime Bricker scored the Spirit's second run when Gall earned a bases-loaded walk.

Stratford needed two runs in the home half of the fifth to close out the win, and managed to piece together a rally with two outs. Fishback reached on a single, and Radomski walked, before Kemp got hit by a pitch. With the bases loaded, Mary Sciglimpaglia delivered a single to right, scoring Fishback and Radomski and ending the game due to the run rule, 10-2.

The Brakettes will travel to the Midwest next week, embarking on a four-day trip to St. Louis for the Saints Invitational. The next home game for the Brakettes is Thursday night, June 16th at 6:30, against the CT High School All-Stars.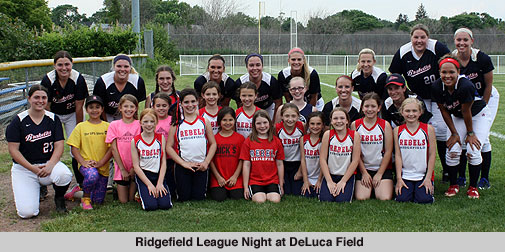 Saturday night, June 4th
vs. Lyons (PA) Spirit
First Game, 7PM
Second Game

1
2
3
4
5
6
7
R
H
E
SPIRIT
0
0
0
0
0
0
0
0
5
2
BRAKETTES
0
0
0
4
1
1
x
6
8
0
Batteries: Spirit- Liz Gall (L) and Denise Henderson; Brakettes- Brandice Balschmiter (W, 1-0) and Hannah Cooper

1
2
3
4
5
6
7
R
H
E
SPIRIT
0
0
0
0
2
2
3
0
BRAKETTES
4
4
0
0
2
10
13
0
Batteries: Spirit- Alyssa Davies (L) and Maddie O'Donahue; Brakettes- Patti Sciglimpaglia (W, 1-0) and Mary Sciglimpaglia