Saturday
BRAKETTES SWEEP DAY 1 OF SAINTS INVITATIONAL 2-0, 9-1, 11-1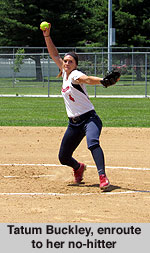 June 11 - by Michael Amento - The Brakettes won their first three games of round robin play on Saturday in the 2016 Saints Invitational being played in Milstadt, Ill. In the opening game of the day, FAU's Tatum Buckley outdueled Lady Rage starter Amber May and in doing so threw a no-hitter in a 2-0 Brakettes win. The only base runner allowed by Buckley reached on a walk with two outs in the 5th inning. In her gem, Buckley struck out six Lady Rage batters.

The Brakettes offense managed just three infield hits in the game which was more than enough to support Buckley. In the 2nd inning, Jordan Whitley walked, reached second on a sacrifice bunt by Amber Radomski, and after a passed ball scored on an RBI single by Danni Kemp deep in the hole at shortstop.

Later in the 3rd inning, Brakette newcomer Summer Damiano reached on a bunt single. Following a walk to Val Suto and another successful sacrifice bunt by Britt Lampert, Denise Denis flied to left for a sacrifice fly to score Damiano for the 2nd and final run of the game.

For the Lady Rage, May retired the last 10 Brakettes to stop any further rallies. May finished with six strikeouts of her own

Later in the afternoon, the host St. Louis Saints provided the opposition for the Brakettes. Brandice Balschmiter opposed Wendy Macias in a highly anticipated pitching matchup, and after falling behind early, the Brakettes came alive for a 9-1 6 inning victory

The Saints got on the board first with a rally started by Kelly Kapp's infield single. Kapp stole 2nd and reached third on a passed ball. Jolie Duffner continued the inning with an infield hit. Kapp scored on a successful double steal with Duffner. That accounted for the only offense the Saints would muster against Balschmiter.

The Brakettes evened things up in the 3rd, as Summer Damiano singled to left, and was driven in by an RBI double to centerfield by Britt Lampert.

The game was broken open in the 5th, where the Brakettes scored 5 runs, all of which were scored with two outs. With Mary Sciglimpaglia on 2nd, Val Suto reached on an infield hit, keeping Mary at 2nd. Lampert then reached on a fielder's choice. Denise Denis blooped a double to left driving in two. Tatum Buckley then singled, and Jordan Whitley struck a line drive triple to left field driving in another two runs. Sarah Bencivenga scored Whitley with a single.

Stratford ended things in the 6th with 3 more runs to complete the scoring. Damiano started things again with an infield hit. After Suto reached on a bunt, Denis reached base on a throwing error which scored Damiano. Buckley then finished the game off with a 2 run single.

Balschmiter struck out 10 and retired 12 in a row at one point allowing just 3 base hits and walked 1.

In the finale, the Bloomington Lady Hearts took the field against the Brakettes, and once again after falling behind in the 1st inning, Stratford scored 11 unanswered runs on 11 hits to cruise to an 11-1 run rule victory.

Sydney Smith, the LSU standout making her Brakettes debut, faced Hannah Smith of the Lady Hearts. In the top of the 1st, the Lady Hearts scored their only run as Haley Ginger singled to left field, and advanced on a bunt from Gabby Uhrin. Ally Domkaski drove her in with a strong drive to center field. Smith then retired 10 of the next 11 batters striking out 5 to end any thought of a Lady Hearts comeback.

In the 2nd, Jordan Whitley doubled in the right center field gap, Sarah Bencivenga walked, and Amber Radomski advanced both runners with a sacrifice. Hannah Cooper then singled to center driving in Whitley. Summer Damiano continued things with an infield hit to 3rd. Val Suto also reached on an infield hit loading the bases, which paved the way for Britt Lampert to clear the bases with a triple.

In the 3rd, the Brakettes put the game out of reach as Whitley singled, Bencivenga tripled to right center driving in Whitley. A throwing error brought in another run and put Radomski at first. Cooper doubled over the head of the center fielder for another RBI, and Damiano reached on an error. Suto continued things with another infield single, and Denis brought in Damiano with a bloop single. The final run scored on a sacrifice fly from Buckley.

In the top of the 4th, the Lady Hearts threatened as Courtney Reeves drilled a ball to deep center that was flagged down by Val Suto showing tremendous range making an over the shoulder catch.

For the day, Val Suto and Summer Damiano had 4 hits, Britt Lampert, Denise Denis and Jordan Whitley each had 3.

Sunday the Brakettes will play their final game of round robin play against St. Louis Academy at 11AM ET before beginning bracket play in the elimination part of the tournament. All games will be broadcast on Brakettes.com.
2016 Saints Invitational, Millstadt, IL

Pool Play
1:15PM EDT Saturday, June 11

4:45PM EDT Saturday, June 11


1
2
3
4
5
6
7
R
H
E
BRAKETTES
0
1
1
0
0
0
0
2
3
0
RAGE
0
0
0
0
0
0
0
0
0
0
Batteries: Brakettes- Tatum Buckley (W, 1-0, no hitter) and Hannah Cooper; East Peoria Lady Rage- Amber May (L) and Delaney Coats


1
2
3
4
5
6
7
R
H
E
SAINTS
1
0
0
0
0
0
1
3
2
BRAKETTES
0
0
1
0
5
3
9
10
0
Batteries: St. Louis Saints- Wendy Macias (L) and Olivia Denslow; Brakettes- Brandice Balschmiter (W, 2-0) and Mary Sciglimpaglia
6:30PM EDT Saturday, June 11


1
2
3
4
5
6
7
R
H
E
HEARTS
1
0
0
0
1
2
3
BRAKETTES
0
5
6
x
11
11
0
Batteries: Bloomington Lady Hearts- Hannah Smith (L) and Riley Phipps; Brakettes- Sydney Smith (W, 1-0) and Hannah Cooper