BRAKETTES ENTERTAIN CT. HIGH SCHOOL ALL-STARS AT DELUCA FIELD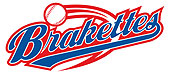 June 15- The Stratford Brakettes return to action Thursday at 6:30 p.m. in a single, nine-inning game against the Connecticut High School senior all-stars at Frank DeLuca Hall of Fame Field. Eight members of the team are from area teams.

Leading the all-stars are pitchers Nicole Williams of St. Joseph and Seymour standout Raeanne Geffert, who led her team to the Class M championship last Friday with a 1-0 win over Rocky Hill. Also playing for the all-stars are Danbury infielder Julia Lener, Foran outfielder Natalia Hart, Trumbull outfielder Lauren Zielinski, Abbott Tech shortstop Kayla Jessup, Oxford shortstop Meghan Sastrm, and Masuk outfielder Hailey Kobza. Tolland's Bill Pompa will coach the all-stars.

Pitching against the all-stars will be a pair of Fairfield County products in Masuk's Tatum Buckley and Norwalk's Patti Sciglimpaglia. Buckley registered a no-hitter last weekend as the Brakettes captured the title of the 51st St. Louis Saints Invitational with a 2-0 victory over the Lady Rage of East Peoria, IL. During the team's six tournament wins, including four via the mercy run rule, Buckley also played second base, first base, and shortstop.

Patti Sciglimpaglia won her only start, an 8-0 mercy win over St. Louis Academy in the finale of pool play last Sunday. Her twin sister Mary will be her battery mate for Manager John Stratton's Brakettes, who enter play with an 8-0 record and 33-game win streak overall. Associate Head Coach Kristine 'Botto' Drust will be back with the Brakettes tonight after leading her Cheshire High School team to the CIAC Class LL championship last week.

Buckley, Val Suto, Britt Lampert, Jordan Whitley, and newcomer Summer Damiano were the big hitters in last week's tourney success. The Brakettes enjoyed a 43-2 scoring edge in the tournament. Ironically, through eight games the Brakettes have yet to hit a home run.

"Our team is built differently this year. We're more speed oriented than power," said Stratton, now in his 24th year at the helm. "We had five left-handed hitters in the lineup throughout the tournament."

Completing the high school roster are Charline Plasczynski of Bristol Eastern, Megan Hodgdon of Cheshire, Paige Mickensuliase of Maloney, East Haven's Laura Anderson and Allison Luzzzi, Kaylie Crosby of East Lyme, Renee Radavich of East Hampton, and Brianna Casiano of Met Life Learning Center.

The Brakettes will be selling tickets for the Battle of the Sexes III throughout the weekend. In addition to luxury box seats for $20, the Brakettes have reserved seats, normally $12 each, for $8.