BRAKETTES OPEN 8-GAME HOME STAND STARTING WITH CONNECTICUT SEAHAWKS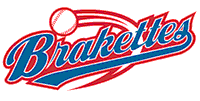 STRATFORD, June 22 - The Stratford Brakettes will be out to begin a new win streak Thursday when they host the Connecticut Seahawks 18U club in a 7 p.m. doubleheader at Frank DeLuca Hall of Fame Field. Coming off a 1-0 loss to the Rock Gold last Saturday, Manager John Stratton will send Tatum Buckley and Patti Sciglimpaglia to the circle against the Seahawks.

Thursday marks the start of a busy weekend for the 12-1 Brakettes who host Team Connecticut Friday at 7 p.m. and the Dutchess, NY, Debs Saturday at 7 p.m. and Sunday at noon in twin-bills at DeLuca Field.

Buckley (2-1) suffered her first pitching defeat in three years, despite tossing a three-hitter with seven strikeouts. An unearned run by Rock Gold in the top of the first inning accounted for the game's lone run. Buckley has a 0.56 ERA with 32 strikeouts and only two walks in 25 innings. Patti Sciglimpaglia is 3-0 with a 2.33 ERA to date. She is also third on the team with a .467 batting average (7-for-15) and two home runs.

Buckley (.444) shares the home run lead and paces the Brakettes with 16 RBI and 17 runs scored. Summer Damiano (.545) and Mandie Fishback (.500) lead the club, which sports a team batting average of .380.

Stratton will get a boost this weekend when Emily Lochten of Florida Atlantic makes her season debut. Emily hit .354 with 39 RBI and seven home runs last season.

All-time home run leader Denise Denis is second in RBI with 15 and newcomer Hannah Cooper (.452) is next with 14. Speedy center fielder Val Suto leads the club with 19 hits.

Manager Paul Crisci's talented Seahawk team features many former and current area scholastic standouts, including Masuk's Meagan McFarland, Alexa Bacoulis, Erica Pullen, and Samantha Schiebe. Newtown's Shannon Cheh, Julia Neufeld of New Canaan, Olivia Vadas of Fairfield Warde, Shelton's Kayla Resto, Barlow's Taylor Macchia, Central's Maliah Pabellon, and Amanda Mendillo of Foran complete the local contingent. Southington pitcher Kara Zazaro and Cheshire standout Mia Juodaitis and Genevieve Speer of Hopkins are also on the roster.

The Brakettes will be selling tickets all weekend for the Battle of the Sexes III against the Bridgeport Bluefish on July 24 at 7:05 p.m. at the Ball Park at Harbor Yard. Luxury box seats are $20 and include a free Brakettes season program and refreshments. Reserved tickets are $8.00. Fans may also reserve tickets by calling the Brakettes office at (203) 378-7262.