Friday Night
Brakettes Tested by Team CT in 5-2 and 4-2 Wins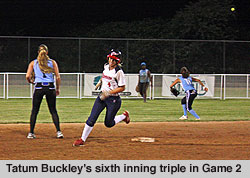 June 25 - by Ilan Woll - After dominant run-rule wins against the CT Seahawks on Thursday, the Brakettes faced a very determined Team CT, which had played competitively in the WMS last year, narrowly losing to the St. Louis Saints to be eliminated with a 2-2 record. A combination of defensive miscues and excellent pitching saw Team CT give Stratford a very strong challenge.

Game 1 had Brandice Balschmiter facing former Laurelton Hall standout and Ithaca College pitcher Haley Congdon. After Brandice struck out the side in the first inning, Val Suto walked to lead off the bottom of the first, stealing second. Sarah Bencivenga then hit a hard single into rightfield, scoring Suto for the early lead.

Team CT tied things up in the second as Gabby Lacona reached on an infield hit, stole second and then scored on a fielding error. However, in the 3rd, the home team added two runs as Suto blooped a single to left, followed by a Britt Lampert bunt single. Denise Denis then also laid down a bunt, and was hit on the attempted throw to first, which scored Suto. A Bencivenga sacrifice fly to right scored the 3rd run of the game for Stratford.

After stranding five runners between the 4th and 5th innings, the sixth saw both teams bring in runs. For Team CT, Britt Romero reached on an error. Gabby Lacona laid down a sacrifice to advance the runner to 2nd, and an attempt to further advance saw a poor throw score Romero to bring Team CT within one. The Brakettes however, added two insurance runs where Danni Kemp singled, and was sacrificed to 2nd by Patti Sciglimpaglia. Suto had a bunt single to put runners at the corners. A ground ball by Lampert and an infield hit from Denise Denis provided the final two runs to cement the 5-2 win.

Defense was a problem for both teams with a combined 6 errors. Balschmiter allowed 2 unearned runs, on only two hits and two walks, while striking out 14. Val Suto had two hits and three runs. Denise Denis also had a two hit game. She and Sarah Bencivenga produced two RBIs each. Adriana Gambino was a defensive standout, with several terrific plays in leftfield for Team CT.

Game 2 saw the Brakettes throw Tatum Buckley against Stamford High School's Sarah Staley.

The Brakettes scored in the second inning as Tatum Buckley helped her own cause with a hard ground ball directly over third base and into left field for a stand up double. A strong single by Hannah Cooper up the middle scored her for the early lead.

Team CT tied the game in the third as 2015 all tournament team member Kaira Ramon singled to center. Ashley Gambino then had an infield hit to put runners at the corners. Britt Romero then slammed a double to the fence, scoring Ramon to tie the game. In the bottom of the frame, the Brakettes retook the lead as Patti Sciglimpaglia singled to right, and advanced on a slap single from Val Suto. Lampert blooped a single to center, loading the bases. A wild pitch then scored Sciglimpaglia for the lead. It seemed Denise Denis might expand the lead with a hard line drive to center, but Katie Schmidt charged hard to make the play and double Lampert off of second to stop the rally.

Both teams also challenged in the 5th. Ramon doubled to left, reached third on an error, and scored on a sacrifice fly by Romero to centerfield. The Brakettes top of the order excelled again, as Suto singled on an infield bunt, and stole second before a shot to the fence by Lampert regained the home team's lead.

With the Brakettes up by one in the 6th, Tatum Buckley gained her own insurance run, tripling down the line in rightfield (photo), and scoring on a soft grounder from Hannah Cooper. She then survived a defensive miscue and a drive to the fence, caught by Lampert, to survive the seventh for a 4-2 win.

Buckley struck out 9 in the win. For Team CT, Kaira Ramon and Ashley Gambino each had two hits and Katie Schmidt made some excellent plays in centerfield. For the Brakettes, Tatum had a double and triple offensvely. Val Suto and Britt Lampert also had two-hit games.

The Brakettes have two more double headers this weekend, playing the Dutchess Debs at 7pm on Saturday and noon on Sunday at Frank DeLuca Hall of Fame Field. All games will be broadcast on brakettes.com.

Friday night, June 24th
vs. Team Connecticut
First Game, 7PM
Second Game

1
2
3
4
5
6
7
R
H
E
TEAM CT
0
1
0
0
0
1
0
2
2
2
BRAKETTES
1
0
2
0
0
2
x
5
9
4
Batteries: Team CT- Haley Congdon (L) and Jordan Benzaken ; Brakettes- Brandice Balschmiter (W, 6-0) and Hannah Cooper


1
2
3
4
5
6
7
R
H
E
TEAM CT
0
0
1
0
1
0
0
2
7
0
BRAKETTES
0
1
1
0
1
1
x
4
8
2
Batteries: Team CT- Sara Staley (L) and Jordan Benzaken; Brakettes- Tatum Buckley (W, 4-1) and Mary Sciglimpaglia