Sunday Afternoon
Brakettes Record Dual Defeats of Debs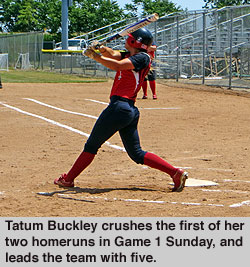 June 27 - The Stratford Brakettes closed out a weekend sweep of the Dutchess (NY) Debs on Sunday afternoon, taking 3-1 and 4-0 victories over their Empire State rivals.

Patti Sciglimpaglia went the distance in the early game, earning her sixth win of the season in a game that started at 12 noon. She struck out two and scattered six hits to pick up the decision.

Abby Canning had a strong start for the Debs, giving up just five hits in the loss.

The Brakettes jumped ahead in the second inning, as Tatum Buckley continued her 2016 power surge. Buckley led off with a solo shot to right-center, her fourth homer of the year, to give Stratford the 1-0 edge. Mandie Fishback kept the momentum going when she reached on a fielder's choice, and moved to second when Hannah Cooper reached on an error. Mary Sciglimpaglia walked to load the bases, and a walk by Val Suto pushed Fishback home with the team's second run.

Jackie Macak opened the top of the third with a home run, closing the gap to 2-1. With one out, Amber Mianti beat out an infield single, but the Brakettes slammed the door on the inning with a 4-6-3 double play. It was the first of three double plays turned by Stratford in the game.

Buckley gave Sciglimpaglia some breathing room in the home sixth, when she led off with another home run, her team-leading fifth of the season. The blast stretched the lead to 3-1 and closed out the scoring in the contest.

Brandice Balschmiter threw a complete-game shutout in the late game, striking out seven to improve to 7-0 in 2016. She only gave up three singles and a lone walk in the performance. Balschmiter was involved in a pitcher's duel with Dutchess starter Carly Bilchak, as neither hurler gave up a run over the first three frames.

Denise Denis broke up Bilchak's no-hit bid with two outs in the fourth, when she singled to right, just inside the first base bag. Emily Lochten followed and clobbered her second home run of the season, giving Stratford a 2-0 edge.

Cooper walked in the sixth and moved up one base apiece on sacrifices by Danni Kemp and Val Suto. With two outs, an infield single by Britt Lampert allowed Cooper to head home for a 3-0 advantage. Denis delivered a double to right to score Lampert, bringing the scoring to a close with a 4-0 lead.

Balschmiter retired 12 of the last 13 batters in the matchup, including the last five batters she faced.

The Brakettes will return to action Thursday night, June 30th, at 7:00 at DeLuca Hall of Fame Field with a doubleheader against the New York Swag. All 2016 Brakettes games are live video webcast at brakettes.com.

Sunday Afternoon, June 26th
vs. Dutchess (NY) Debs
First Game, 12 Noon
Second Game

1
2
3
4
5
6
7
R
H
E
DUTCHESS DEBS
0
0
1
0
0
0
0
1
6
2
BRAKETTES
0
2
0
0
0
1
x
3
5
0
Batteries: Debs- Abby Canning (L) and Jackie Macak; Brakettes- Patti Sciglimpaglia (W, 6-0) and Mary Sciglimpaglia
Homerun: Debs- Jackie Macak; Brakettes- Tatum Buckley 2 (5)


1
2
3
4
5
6
7
R
H
E
DUTCHESS DEBS
0
0
0
0
0
0
0
0
3
0
BRAKETTES
0
0
0
2
0
2
x
4
4
1
Batteries: Debs- Carly Bilchak (L) and Jackie Macak; Brakettes- Brandice Balschmiter (W, 7-0) and Hannah Cooper
Homerun: Brakettes- Emily Lochten (2)