Saturday Afternoon
Brakettes Earn Top Seed in Lyons Tournament with 11-2, 13-1 and 3-2 Wins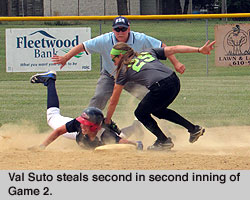 July 2- by Ilan Woll - The Annual 4th of July tournament in Lyons, PA began as the Brakettes took on the best of Pennsylvania and surrounding states. After two dominant wins, the TC Tremors gave Stratford a challenge, which was narrowly won after the time limit expired.

For the first game, Tatum Buckley took the mound against the Jersey Fusion's Christina Gambino. The road team in this game, the Brakettes started the game off strong as Val Suto singled to left and Britt Lampert walked. Emily Lochten loaded the based with a bloop single. Tatum Buckley then drove in a run with a single, and Sarah Bencivenga drove in two more with a strong hit. Amber Radomski then, with two out, lined a single to center, scoring two for an early five run lead. An error in the 2nd scored another run. For the 3rd inning, Bencivenga tripled to left center, scoring on a Jordan Whitley ground ball for the early 7-1 lead.

Denise Denis added to the bonanza when, following singles from Danni Kemp and Suto, Sixer slammed a ball to deep center which went to the fence. Her speed, along with the power of the shot resulted in her 4th home run of the year. Jordan Whitley capped off the scoring in the fifth with an RBI single, scoring Bencivenga.

The Fusion scored their runs off of big hits. In the first, Christina Sykora slammed the ball to left center, and outran the Brakettes defense for an inside the park homer.. In the 4th, Steph Pasquale tripled to centerfield, and scored on an error.

Buckley allowed only 4 hits in the game for her 7th win of the year. Suto and Bencivenga each had 3 hits. For the Jersey Fusion, Steph Pasquale went 2-2.

For game 2, Patti Sciglimpaglia faced off against Madelyn Yannetti and the Mid-Penn Talons. The Brakettes dominated the early frames. Val Suto singled to third base, then advanced two more bases on an errant throw, and scored on a wild pitch. Britt Lampert and Emily Lochten then singled, and scored on a triple by Tatum Buckley to left center, who was thrown out trying to stretch it for the home run. In the 2nd, Danni Kemp walked and Suto singled. Then, with two out, Lochten reached on an infield hit. Buckley then doubled to centerfield to drive in two more (she finished the game with five RBIs). A Patti Sciglimpaglia double to center drove in two more and her sister Mary plated her with a single.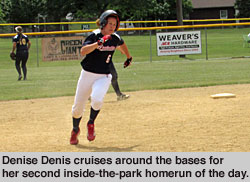 In the third, the Brakettes finished off the game with a second inside the park homer of the day from Denise Denis to right centerfield, scoring Lampert. Lochten also scored on a wild pitch after singling.

Patti Sciglimpaglia ran into a bit of trouble in the 4th, allowing singles to Sydney Boreman and Alyssa Hamilton. A pair of walks resulted in her one run allowed. She finished the day with six strikeouts allowing only four hits. Val Suto continued her torrid hitting with three infield hits. Emily Lochten also had three hits. Tatum Buckley had extra base hits in both of her appearances.

For the final game, the TC Tremors challenged the Brakettes. Brandice Balschmiter took the circle against 3 different pitchers. Stratford took an early lead as Val Suto singled, Britt Lampert reached on a fielders choice. Denise Denis singled to rightfield, putting runners on the corners. Tatum Buckley singled a run in, and a wild pitch provided the 2-0 lead.

The Tremors continually fought off Brandice's pitches, but did not have a successful inning until the 3rd, as Erika Mackie reached on an error. Brandi Coon then doubled to left, advancing Mackie to 3rd. A pair of walks resulted in a run, to cut the lead to one.

The Brakettes fought back in the 4th as Buckley tripled to deep left and scored on a Sarah Bencivenga line drive single to right. In the fifth, the Tremors threatened, as a double from Erika Mackie, and a triple from Brandi Coon brought in another run with no outs. Brandice then struck out 3 of the last 4 batters to survive the fifth with a 3-2 lead. Time expired in pool play after five innings for the Brakettes win.

Brandice fought off a tight strike zone to strike out 13 against 6 walks and 3 hits (two from Brandi Coon). For the Brakettes, Van Suto had two hits to finish the day 8-9. Tatum Buckley and Jordan Whitley also had two hits.

The Brakettes begin bracket play Sunday morning at 10:45 a.m., meeting the winner of the Spirit / TC Tremors game. All Brakettes games will be broadcast on brakettes.com

Saturday Afternoon, July 2nd
4th of July Tournament, Lyons, PA
Third Pool Play Game, 4:00 PM
TIME LIMIT
1
2
3
4
5
6
7
R
H
E
TC TREMORS
0
0
1
0
1
2
3
0
BRAKETTES
2
0
0
1
0
3
8
1
Batteries: Tremors- Erika MacKenzie (L), Sydney O'Hara (3), Baker (5) and Nikki Jacobs; Brakettes- Brandice Balschmiter (W, 8-0) and Hannah Cooper

First Pool Play Game, 12:30 PM
Second Pool Play Game, 2:15 PM

1
2
3
4
5
6
7
R
H
E
BRAKETTES
5
1
1
3
1
11
12
1
FUSION
1
0
0
1
0
2
4
1
Batteries: Jersey Fusion- Sarah Ross (L) and Steph Pasquale; Brakettes- Tatum Buckley (W, 7-1) and Hannah Cooper
Homerun: Fusion- Christina Sykora; Brakettes- Denise Denis (4)

1
2
3
4
5
6
7
R
H
E
TALONS
0
0
0
1
1
4
3
BRAKETTES
3
7
3
x
13
14
0
Batteries: Mid-Penn Talons- Madelyn Yannetti (L) and Alyssa Hamilton; Brakettes- Patti Sciglimpaglia (W, 8-0) and Mary Sciglimipaglia
Homerun: Brakettes- Denise Denis (5)