Thursday Night
Brakettes Play in Peoria, Win 6-3, 6-1 over Lady Rage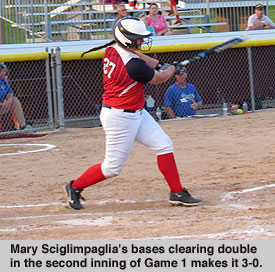 July 15 - by Ilan Woll - After the Brakettes Midwest Road Trip began with a rain out on Wednesday, the team travelled to the Eastside Centre in East Peoria, IL to play the home town Lady Rage. Stratford also welcomed their newest pitcher Charlie Nolen who pitched the 2nd game. For the opener, Patti Sciglimpaglia took the circle to face Amber May of the Rage.

Following a first inning where both teams left two runners on base, the Brakettes took a lead in the second frame as Sarah Bencivenga led off with a single to centerfield. Following a sacrifice bunt by Jordan Whitley, a returning Summer Damiano had an infield hit and Danni Kemp reached on a fielding error. With the bases loaded, Mary Sciglimpaglia drilled a gapper to left centerfield, clearing the bases with a standup double. In the home half, Kristin Cooper smashed a home run over the fence in leftfield to make the score 3-1.

In the third, Emily Lochten was hit by a curveball, and then Tatum Buckley turned on a pitch for a 2-run homer to leftfield for a 5-1 lead.

The Lady Rage fought back in the fifth, as Katie Williams had an infield hit. Riley Hale then powered a ball to deep center for the home run which cut the Brakettes lead to 5-3.

Stratford added an insurance run in the seventh as Denise Denis laid down a bunt single, and advanced to third on a throwing error on a ground ball by Lochten. Buckley hit a deep fly to centerfield which was hauled in by Kori Mescher, but deep enough for the sacrifice fly RBI. This ended the scoring for the 6-3 Brakettes win.

Patti Sciglimpaglia improved to 9-1 on the season, allowing five hits and two walks while striking out four. Sarah Bencivenga had three hits for the game while Summer Damiano and Mary Sciglimpaglia had two each. Mary and Tatum Buckley each had 3 RBIs on the game. Riley Hale and Kristin Cooper each had two hits for the Lady Rage.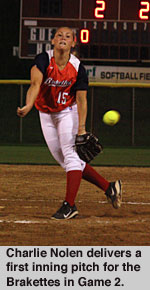 For the 2nd game, Charlie Nolen made her Brakettes debut, donning the red and white to face Liz Hipper for the Rage. The Northern Kentucky pitcher started off allowing an infield hit to Kori Mescher. However, catcher Hannah Cooper promptly caught the runner off first and Nolen retired the next two hitters for a scoreless first.

In the second, Sarah Bencivenga started the inning with a walk. After a Jordan Whitley sacrifice, Summer Damiano also walked. Hannah Cooper then singled to load the bases. Val Suto blooped a single over the drawn in infield to bring in two. Britt Lampert's infield single reloaded the bases and a line single from Denise Denis brought in two more runs for the early four run lead. Riley Hale answered back for the Lady Rage in the bottom of the inning with a long home run to right field, her 2nd of the day, which cut the Brakettes lead to 4-1. The Rage loaded the bases that inning with a pair of walks and a single. However, with one out, Nolen struck out the last two hitters to get out of the jam with only the one run allowed.

The Brakettes added a fifth run in the fourth, when Cooper doubled to center, and scored when Lampert grounded to short, but the throw to first went into the dugout.

In the sixth, Suto singled, and advanced on a line drive single from Lampert. Denise Denis then drove her in with a bunt single for her 3rd RBI of the game.

Meanwhile Charlie Nolen (1-0) settled in and retired the last 11 batters she faced. She struck out nine, and walked only two, while allowing six hits in the 6-1 victory. Denise Denis and Britt Lampert had three hits each with Val Suto and Hannah Cooper adding two apiece. The debut win for Nolen brings the Brakettes to 31-2 on the season.

The Brakettes return Friday night with two games against the Pekin (IL) Lettes and then this weekend appear in the Pekin Invitational with the Saint Louis Saints, Bloomington Lady Hearts, East Peoria Lady Rage, Indiana Slammers, and Pekin Lettes. All games will be broadcast on Brakettes.com
Thursday night, July 14th
at East Peoria (IL) Lady Rage
Eastside Centre, East Peoria, IL
First Game, 8PM EDT - FINAL
Second Game - FINAL

1
2
3
4
5
6
7
R
H
E
BRAKETTES
0
3
2
0
0
0
1
6
12
1
LADY RAGE
0
1
0
0
0
2
0
3
5
2
Batteries: Brakettes- Patti Sciglimpaglia (W, 9-1) and Mary Sciglimpaglia; Lady Rage- Amber May (L) and Delaney Coats
Homerun: Brakettes- Tatum Buckley (7); Rage- Kristen Cooper, Riley Hale


1
2
3
4
5
6
7
R
H
E
BRAKETTES
0
4
0
1
0
1
0
6
11
0
LADY RAGE
0
1
0
0
0
0
0
1
5
1
Batteries: Brakettes- Charlie Nolen (W, 1-0) and Hannah Cooper; Lady Rage- Liz Hippen (L), Veronique Johnson (7) and Gabrielle Mueller
Homerun: Rage- Riley Hale