Friday Night
Good Shines in Premiere as Brakettes Sweep CT Seahawks 8-0, 12-0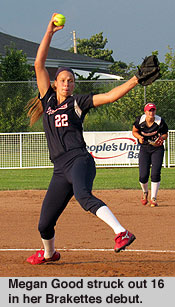 July 23 - by Ilan Woll - Megan Good, a strong part of the dominant James Madison Dukes rotation, made her debut in Brakettes Blue, facing Nicole Koshes of the Connecticut Seahawks. Good instantly made her presence known, striking out three of the first four hitters she faced, allowing only a walk.

Meanwhile, early control issues benefitted Stratford. Following Val Suto being hit by a pitch and sacrificed into scoring position, Denise Denis and Emily Lochten walked, loading the bases. Tatum Buckley then cleared the bases with a double off the fence in centerfield to gain the early 3-0 lead.

Nicole Koshes then showed excellence, allowing only one baserunner in each of the next three innings before being replaced in the fifth. In that inning, Mary Sciglimpaglia singled to left, advancing on a bunt single by Suto. Britt Lampert then singled to fill the bases. Denis lined a hit to rightfield for an RBI. A ground ball by Lochten scored the Brakettes fifth run.

With two outs in the sixth, the Brakettes ended the game as Danni Kemp doubled to deep left. Mary Sciglimpaglia reached on an infield hit. Suto then had her first extra base hit of the season, tripling to rightcenter to bring in two. Lampert then drilled a pitch down the rightfield line to end the game on run rule.

Megan Good was spectacular in her premiere, striking out 16 Seahawks and allowing only two hits and one walk in six innings. Offensively, Val Suto had three hits, while Britt Lampert and Mary Sciglimpaglia contributed two each.

For game two, Tatum Buckley faced off against Melissa Pereira. Buckley allowed lead off base runners in each inning, but kept them all away from home plate in the winning effort, striking out five in three innings.

Offensively, the Brakettes went on a tear. Val Suto singled to lead off the game and Britt Lampert took advantage of a throwing error, which scored Suto. Denise Denis and Emily Lochten had back to back RBI doubles. Singles by Hannah Cooper and Amber Radomski finished off a five run inning. In the second, RBI singles by Denis and Cooper and a sacrifice fly from Megan Good brought in an additional three.

With a new pitcher in the game, Denis doubled two runs in and Jordan Whitley had a single to center, plating the final two runs as the game was decided by run rule after three innings.

Val Suto added another two hits, and reached successfully in each of her appearances for the day. Denise Denis had three hits and four RBIs. Britt Lampert and Hannah Cooper each had two hits in the shortened game.

The Brakettes return Saturday at Frank DeLuca Hall of Fame Stadium to play two new opponents, the East Coast Drive from Dutchess County, NY and the Central Massachussets Voodoo in the USSSA invitational. On Sunday, they will play the Bridgeport Bluefish in the Third Annual Battle of the Sexes at Harbor Yard in Bridgeport at 7:05pm ET in a single 9-inning exhibition. All games will be broadcast on brakettes.com.
Friday night, July 22nd vs. CT Seahawks
First Game, 7PM
Second Game

1
2
3
4
5
6
7
R
H
E
CT SEAHAWKS
0
0
0
0
0
0
0
2
1
BRAKETTES
3
0
0
0
2
3
8
10
0
Batteries: Seahawks- Nicole Koshes (L), Haley Congdon (5) and Kaley Kempf; Brakettes- Megan Good (W, 1-0) and Mary Sciglimpaglia


1
2
3
4
5
6
7
R
H
E
CT SEAHAWKS
0
0
0
0
2
2
BRAKETTES
5
3
4
12
13
2
Batteries: Seahawks- Melissa Pereira (L), Haley Congdon (2) and Carly Marchitto; Brakettes- Tatum Buckley (W, 14-1) and Hannah Cooper