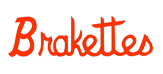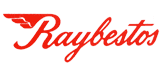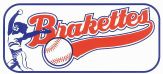 Dave Carpenter


--- Brakettes Reunion ---
Alumnae Weekend
July 8-10, 2016
Celebrating Our 70th Year!

More pictures on Facebook and Shutterfly


The weather threatened, but did not dampen the spirit of the participants or cancel any reunion events. Friday July 8th, began with a Homerun Derby, emceed by Rob Baird, Brakettes Media Director. Former Brakettes Elise Fortier, Jess Mouse, Ashley Waters, and Becca Carden faced off against current Brakettes Denise Denis (all-time HR leader), Amber Radomski, Tatum Buckley, and Emily Lochten. Kaira Ramon of Team CT was invited to join in the fun. The finals came down to Elise and Emily. Elise won, hitting one more than Emily. The event was a real crowd pleaser. Following the Homerun Derby, the Brakettes played a game against Team CT.

Saturday July 9th, the alumnae gathered for a luncheon at Short Beach, Stratford. Players reconnected with teammates and met players who came before and after their playing days. They enjoyed a menu of lasagna, eggplant parmesan, pizza, 6 foot subs, salad, potato salad and chips. Thanks to Associate Head Coach Kristine Botto Drust for providing water, soda, iced tea and a beautiful cake. It was a bit chilly at the luncheon, but there was a pavilion for the threat of rain, a beautiful beach and a wonderful playscape for the children and grandchildren of the former players.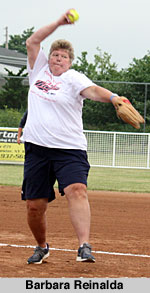 The weather cleared a bit allowing us to get our all-team alumnae photo and a second photo with the current team joining the former players. Pat Sanders transported, via golf cart, former players wishing a ride to the outfield for the all-team photo, and later to the dugout area prior to introductions. The current Brakettes wore their uniform while the former players wore their reunion tee shirt. Each player attending the reunion received a reunion weekend tee shirt, a name tag lanyard sporting the saying "FOREVER A BRAKETTE", and an Alumnae Weekend program booklet.

At 6:00 p.m. Rob Baird emceed the introductions of former players during Opening Ceremonies. Three players from the inaugural team of 1947- Millie Elias, Annette Verespy Kalafus, and Midge Milowski- were in attendance. Current Brakettes escorted these players to the mound joining other attendees. Current players were delighted to meet the alumns and thank them for paving the way to play the game they love.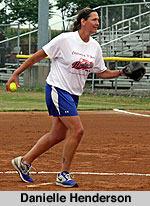 Following the introductions, Rob served as announcer for the alumnae game, organized by the Brakettes' all-time winningest pitcher and hall-of-famer Barbara Reinalda. Olympian Danielle Henderson pitched for one team and Barb pitched for the other. Other participants included Elaine Amundsen, Jessica Mouse, Steffi Call, Olympian and hall-of-famer Sheila Cornell Douty, Ginny Walsh, Carly Normandin Oakley, Frankie Spruce, Donna McLean, Sarah Calgreen, Ashley Waters, Elise Fortier, Becca Carden, Keri McCallum Stratton and Kate Bowen. Current player Hannah Cooper caught for each side. The event was a real crowd pleaser. Fans were glad to see these players return to DeLuca and enjoyed the game. A special treat was seeing the alumnae include Jenn Huyett Schroeder's children Miles and Adelynn, Keri's daughter McKenna and Karen Hovan's granddaughter Ava hit /play in the field.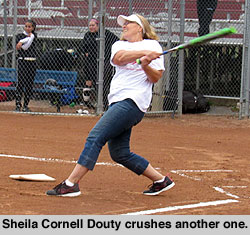 The evening was topped off with a special Homerun Derby between Sheila Cornell Douty (#4 all-time) and Steffi Call (#3 all-time) who could not attend Friday night's event. A lot of long balls were hit much to the delight of players and fans. The Brakettes then played a game vs the NYC Havoc after these two fun alumnae events. (Rumor has it that some former players partied 'till closong time in the back room of a local diner following the events at the field).

Sunday brought lots of sun finally, and a last chance for players to chat with old friends and teammates during a player brunch of pastries, fruit, bagels and coffee. The Brakettes then played a final game against the NYC Havoc to end the great weekend.

Many thanks to all the people who helped make the reunion a successs. Thanks to John Stratton, Jim Lampert and Pat Sanders for getting tables and chairs borrowed from John's church and setting them up for the luncheon, and making sure we had coolers and ice for beverages. Thanks to Jim Fetter for helping put up the 1947-2016 team photos display at the field. Thanks also to Noreen Calgreen for making dessert for the luncheon and to Linda Finelli for helping with planning, and her generous donation toward the printing of the reunion booklet. Our thanks also to Pat Sanders for printing the reunion booklet. And Rob Baird did a great job as our emcee for the homerun derby, opening ceremonies, and alumnae game. Thanks, Rob.

Many thanks to players for taking time out of busy schedules and many for traveling a long way to attend. It was great to see and chat with you. Hope you all enjoyed the weekend.

Kathy Gage
Reunion Chair

(L-R) Annette Verespy Kalafus, Midge Milowski and Millie Elias from the inaugural 1947 team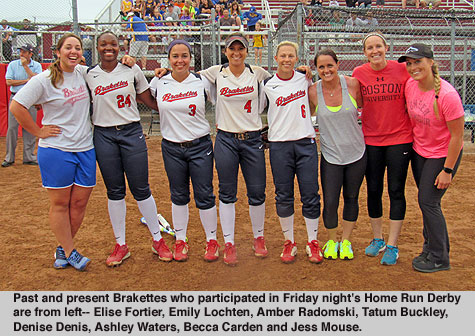 L-R, top row- Emily Lochten, Jordan Whitley, Danielle Henderson, Elise Fortier, Steffi Call, Becca Carden, (up) Diane "Schuie" Schumacher, (down) Ashley Waters, (up) Barbara Reinalda, (down) Jess Mouse, Hannah Cooper, Keri Stratton, Jenn Huyett Schroeder, Ginny Adler, Amber Radomski, Lisa Dennis, Elaine Biercevicz Piazza, Sheila Cornell Douty, Karen Hovan, Mary Sciglimpaglia, "Bippy" Luckie, Brandice Balschmiter
middle row- Midge Milowski, Bev Mulonet Hollis, Edna Fraser, Millie Elias, Willie Roze, Marge McIntire, Diane Seery, Linda Finelli, Gladys Crespo, Patti Fernandes, Elaine Amundsen, Kathy Elliott, Patti Sciglimpaglia
bottom row- Britt Lampert, Kristine Botto Drust, Danni Kemp, Sarah Calgreen, Tatum Buckley, Kate Bowen, Denise Denis, Carly Normandin Oakley, Val Suto, Mandie Fishback, Sarah Bencivenga
missed photo shoot- Annette Verespy Kalafus