Brakettes Mourn Loss of Danni Kemp, One of Our Own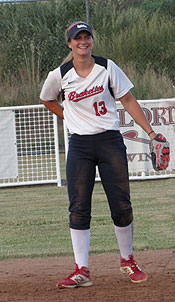 March 13 - Stratford Brakette softball player Danni Kemp, 19, passed away on Friday, March 10th after a courageous seven-month battle with DIPG (Diffuse Intrinsic Pontine Glioma), a rare and inoperable form of brain cancer. The Brakettes send our thoughts and prayers to Danni's parents, Cliff and Melinda Kemp, her sister Alyssa, and all her family and friends.

Danni, a Milford native and Connecticut all-stater at Foran High School, played one year at Division I Stony Brook University. She appeared in six games for the Brakettes in 2015, before becoming a Brakette regular in 2016. Doctors only discovered the cancer last August after Danni experienced concussion-like symptoms after being hit in the helmet by a pitch during a Brakette game.

Without surgical options available to combat DIPG, Danni's family organized a GoFundMe page that helped raise over $129,000 for Danni's medical care. The local Milford and women's softball communities also mobilized with a series of fundraisers to help defray the cost of Danni's extensive treatments. Several former Brakettes organized a softball clinic to support Danni, and raised over $22,000 in one day alone.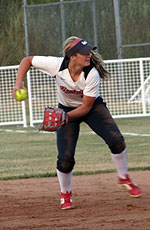 The Kemp family made two trips to Germany, so that Danni could receive experimental immunotherapy treatments. Danni met other young patients suffering from cancer in her travels, and the patients' families quickly became friends.

Danni was a promising young athlete, who had already beaten kidney cancer while just in high school. She inspired thousands after her diagnosis, never giving up despite the uphill battle. Danni's story was shared time and time again on social media, as the #DanniStrong movement spread internationally. High school and college softball teams from around the country came together to show solidarity with Danni by wearing the blue #DanniStrong bracelets. The Danni Kemp Cancer Support Group page on Facebook grew to over 3,000 members, and became an outlet for the sharing of stories among friends and families of other cancer patients.

Long-time Brakette manager John Stratton remembered Danni as a breath of fresh air. "Danni was just a super kid. She was a popular teammate and was always friendly to everybody. There's going to be a big void in the clubhouse without her. We will all miss her very much."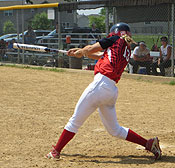 Brakette veteran outfielder Denise Denis said that Danni was like a little sister. "Danni was hilarious. She always had me laughing and shaking my head by saying something ridiculous, always keeping it light. We've got her family in our thoughts right now. She's going to be missed by many."

Danni left this world on Friday surrounded by her loving family, but she will never leave our hearts and minds. Even as she suffered, Danni brought all those around her closer together. May she rest in peace, while she continues to make all of us #DanniStrong.

Family and friends can pay their respects for Danni this Sunday, March 19th, from 1:00-5:00 at Cody White Funeral Home (107 Broad Street, Milford). A Mass of Christian Burial will be held 11 a.m. Monday, March 20 at Saint Agnes Church, 400 Merwin Avenue, in Milford.

Full arrangements can be seen by visiting the following link:

http://patch.com/connecticut/milford/funeral-arrangements-released-danni-kemp-19


| | | |
| --- | --- | --- |
| | | |
| Danni and parents Melinda and Cliff after CT High School All-Stars vs. Brakettes June 18, 2015. | | Danni, with parents and sister Alyssa, receiving Chelsea Cohen Courage Award Oct 17, 2016. |