STRATFORD BRAKETTES OPEN 71ST SEASON WITH 9 NEW PLAYERS ON ROSTER; VETERANS BALSCHMITER, DENIS, AND RADOMSKI PROVIDE THE LEADERSHIP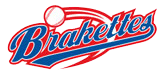 May 29 - When the Stratford Brakettes open their 71st consecutive season of women's fastpitch softball Friday night at Frank DeLuca Hall of Fame Field there will be more new faces than familiar ones on the roster. A total of nine players will be wearing the Brakettes uniform for the first time as they host the Newtown, PA, Rock Gold in a 7 o'clock doubleheader. The teams will play another doubleheader Saturday at 7 p.m. and a single game Sunday at 10 a.m.

Entering his 40th year with the Brakettes, and 19th as team manager, John Stratton isn't worried about the turnover. "Certainly we'll miss the players who are not returning, but the ones taking their place have the talent and desire to make it another interesting season," said Stratton, who has compiled a 1,246-91 record for a .931 winning percentage.

Gates to DeLuca Field will open at 5:45 p.m. The pre-game festivities will include the Coastal Chordsmen singing the National Anthem, the presentation of the 2016 batting championship plaque to centerfielder Val Suto, who hit .530 last year, and the ceremonial first pitch. Cliff and Melinda Kemp, parents of the late Danni Kemp, who passed away March 10 from Diffuse Intrinsic Pontine Glioma (DIPG), a rare and inoperable form of brain cancer, will throw out the first pitch as the Brakettes dedicate the 2017 to the memory of their former teammate.

While Stratton and Associate Head Coach Kristine 'Botto' Drust get accustomed to the newcomers, they have a trio of key veterans to make the transition much easier in pitcher Brandice Balschmiter, outfielder Denise Denis, and utility player Amber Radomski. Between them they have 36 years of experience under Stratton.

Balschmiter is sixth in all-time wins with a 165-12 record. She was 12-1 with a 0.75 ERA and 129 strikeouts last year, despite missing a month with a broken left wrist. The four-time Player of the Year in the Atlantic 10 from UMass is sixth in career strikeouts with 1,534, trailing five ASA Hall of Famers in Joan Joyce, Kathy Arendsen, Berthy Tickey, Barbara Reinalda, and Donna Lopiano.

Denis starts her 13th year as the Brakettes all-time home run leader with 112. Last year the Saratoga Springs, NY, native hit .436 with 71 RBI, nine home runs and 28 extra base hits. She is second in career RBI and third in hits, doubles, and triples.

Radomski has played anywhere Stratton needed her. Hitting .373 last year, the former Barlow and AIC standout committed only one error in 133 chances. Having served as a player/coach for several years, Radomski is a member of the Branford Police Department.

Two-time Connecticut Gatorade Player of the Year Tatum Buckley (Florida Atlantic) of Monroe, an infielder-pitcher; outfielder Brittany Lampert of Shelton and Concordia College; centerfielder Val Suto of Mercerville, NJ and Seton Hall; and catcher Hannah Cooper of Bellefonte, PA, and Central Connecticut are the other returning Brakettes.

Buckley hit .431 with 50 RBI and 27 extra base hits for the Brakettes, who finished 52-3 with their seventh straight Women's Major Softball National Championship. Lampert had another strong year at .389 with 31 RBI. Suto, a recent SHU grad, won her second straight batting title, while Cooper was a rock behind the plate, playing errorless ball in 254 chances while batting .421 with 30 RBI.

Leading the list of newcomers are three former St. Joseph High School standouts, who led Manhattan to their best record ever at 34-21. Pitcher Nicole Williams (12-8) of Ansonia was the MAAC and ECAC Rookie of the Year for the Jaspers, while second baseman Lauren Pitney of Ansonia led the team in average (.324), home runs, and RBI. Graduate and catcher Jenn Vazquez hit .269 with 29 RBI.

Shortstop Courtney Cashman (.430, 7 homers, 35 RBI) of Danvers, MA, the American East Conference Rookie of the Year, and pitcher Kaysee Talcik (8-10) of Shelton, are newcomers from D-1 UMass-Lowell, coached by former Brakettes great Danielle Henderson. Infielder Jolie Duffner of Jefferson City, MO, completed her redshirt freshmen year at Missouri. She played for the Brakettes arch-rival St. Louis Saints the past few years and is a huge pickup for Stratton. Outfielders Noel Lent of Yaphank, NY, who hit .311 at Seton Hall, and Alexis Bazos of Pound Ridge, NY and Notre Dame provide the Brakettes with outstanding speed. Pitcher Abby Abramson of Cheshire High will join the team once the high school season ends.

Once again the Brakettes will video webcast the entire season. Click on the webcast link on brakettes.com.