BRAKETTES TRAVEL TO AMHERST, NY, FOR AUNT ROSIE'S INVITATIONAL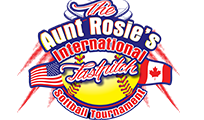 AMHERST, NY - June 29 - It will be a homecoming for Brakettes star pitcher Brandice Balschmiter, who grew up in nearby Newark, when the Stratford Brakettes participate in the inaugural Aunt Rosie's Invitational at the Northtown Center in Amherst Saturday and Sunday.

The eight-team tournament was put together in December when Aunt Rosie's tournament director Dave Myers received the Brakettes commitment to attend. "We have a 28-team 18U showcase going on at the same time and we wanted to highlight the Brakettes for the hundreds of players in the tournament. We had no trouble filling the field once the Brakettes said they were coming," said Myers.

Joining the Brakettes (8-2) are the Amherst Lightning, Maryland Chill, Avalanche, NY Diamond Girls, Ohio Lady Lasers, Cayuga Gamblers, and Quebec Rebelles. The teams will play two pool games Saturday followed by a single-elimination round Sunday.

Manager John Stratton's club will face the Quebec Rebelles at 3:30 and the Avalanche at 7 p.m. in their pool games. The Rebelles are the defending Canadian Senior Champions and they won the 2014 Aunt Rosie's Open title, while the Avalanche captured the Open crown last year. This year's Open event is July 7-9. Elimination play starts at 10:30 a.m. Sunday.

Balschmiter began the year in sixth place all-time with a 165-12 record. Hall of Famer Donna Lopiano is fith at 183-18. Balschmiter is 4-0 thus far with 42 strikeouts in 34 innings and a 1.22 ERA. Sharing the pitching duties this weekend will be Manhattan standout Nicole Williams (2-1, 1.25) of St. Joseph High fame and recent Cheshire grad Abby Abramson (0-0, .000), the two-time Gatorade Player of the Year. Williams and Abramson combined for a nine-inning perfect game against the Connecticut High School all-stars June 15.

Denise Denis (.517, 14 RBI), Jolie Duffner (.303, 16 RBI), Val Suto (.424, seven stolen bases) and Noel Lent (.290) are the top hitters who have played in every game thus far.

Pitcher Kaysee Talcik (2-1) of Shelton and UMass-Lowell and outfielder Alexis Bazos of Pound Ridge, NY and Notre Dame will not be in attendance. Talcik was selected for the Puerto Rico National team and will be playing in the World Cup in Oklahoma City, while Bazos, representing Greece, will be playing in a tournament in Italy. Both will be rejoining the Brakettes in 10 days, while three-year standout Tatum Buckley will make her season debut July 6 against Team Connecticut after completion of summer school at Florida Atlantic.

Following the tournament the Brakettes begin a steady diet of eight-game weeks with doubleheaders on tap every Thursday through Sunday at Frank DeLuca Hall of Fame Field. The Brakettes will also meet the Bridgeport Bluefish in the Battle of the Sexes IV at the Ballpark at Harbor Yard July 23 at 7 p.m. Tickets for the nine-inning game are on sale at all Brakettes home games or by calling the Brakettes at (203) 378-7262.