Back Home at DeLuca Field, Brakettes Sweep Doubleheader from Team CT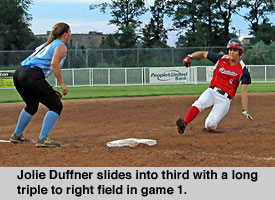 July 7 - The Stratford Brakettes returned to DeLuca Field Thursday night, sweeping a doubleheader from Team CT, 9-3 and 10-1. The games were the first for the Brakettes since returning from their road trip to Buffalo and a runner-up finish at Aunt Rosie's Invitational.

Nicole Williams (5-1) earned the win in the first game with a six-strikeout performance. She gave up three runs on five hits.

The Brakettes got started early in the first matchup, scoring twice in the home first. Val Suto led off the inning with a single and stole second. With one out, Denise Denis was hit by a pitch to put two on. Jolie Duffner knocked an opposite-field single to left, loading the bases.

Lauren Pitney grounded to third base, and the throw home was in time for the force out. However, the attempt to get Pitney at first base sailed into right field, allowing Denis and Duffner to score for a 2-0 edge.

Pitney scored in the third, after leading off with a walk. Casey Harding moved Pitney up with a single, and Noel Lent loaded the bases with a base hit of her own. A wild pitch sent Pitney home for a 3-0 margin, although Team CT was able to escape the frame without further damage.

Tiffany Diao worked a walk to lead off the fourth for Team CT. Gabby Laccona followed and blasted a two-run shot to left, pulling Team CT to within a run at 3-2.

Stratford added to the slim lead in the bottom of the fourth, as Britt Lampert reached on a one-out single. She moved to second on a wild pitch and tagged up on a fly to reach third, before coming home on a single by Duffner. The score made it 4-2 after four innings.

The Brakettes put it out of reach in the home fifth, plating five runs, while flirting with a run-rule decision.

Lent started the rally with a one-out walk and a steal of second base. Megan Hodgdon followed and walked, putting two on. Amber Radomski walked to load the bases, bringing Suto up in a big spot. Suto singled to drive in two for a 6-2 advantage, while pushing Radomski to second. Lampert grounded out, but moved both runners up a base.

Denis kept the big inning going with a two-run single, stretching the lead to 8-2. Duffner then launched a triple to the fence in right, scoring Denis for a 9-2 score. Team CT was able to get the third out and escape a potential run-rule shortened finish.

Team CT refused to go quietly, as Diao reached again in the sixth on a single. Laccona followed and reached on a fielder's choice, then advanced to second on a groundout. With two outs, Lauren O'Neill drove in Laccona with a single, making it a 9-3 game.

Williams struck out the next batter to get out of the inning, and retired the side 1-2-3 in the seventh to preserve the victory.

Abby Abramson (2-0) got the win in the nightcap, as she fanned five batters in a run rule-shortened one-hitter.

Team CT went up early on the Brakettes in the late game with a run in the top of the first.

Laccona worked a leadoff walk and scampered to second on a wild pitch. She advanced to third on a grounder to the right side, and raced home on another wild pitch for a 1-0 edge.

The Brakettes quickly tied it up and took the lead in the bottom half of the frame.

Suto set the table with a walk and steal of second base. Denise Denis drove her in with a double to right, tying it up at 1-1. Duffner then crushed a double to left, scoring Denis for a 2-1 Brakette lead.

After a scoreless second inning, the Brakettes added three more runs in the home third.

Radomski singled through the left side and moved up on a sac bunt by Hodgdon. Suto worked a walk to put two runners on. With two outs, Denis clobbered her third home run of the year to dead center, extending the lead to 5-1.

Alexis Bazos helped to manufacture another run in the fourth, when she singled up the middle with two outs. She advanced two bases on a pair of wild pitches, and scored on an RBI single by Lent to left field for a 6-1 tally.

The Brakettes left Team CT on the field in the bottom of the fifth, thanks to a four-run inning.

Suto walked with one out in the fifth, her third free pass of the game. Lampert reached on a single to left, and both runners moved up a bag on a groundout to first. With two outs, Duffner lofted a triple to center, scoring two runs for an 8-1 advantage.

Pitney came up next and crushed a two-run homer to left, her first as a Brakette, to end the contest in five innings with a 10-1 score.

The Brakettes will return to action on Friday night with a 7:00 doubleheader against the Team Castle Futures.

All 2017 Brakettes games are live video webcast at brakettes.com.

Thursday night, July 6th vs. Team Connecticut
First Game, 7:00 PM
Video Archive
Second Game
Video Archive

1
2
3
4
5
6
7
R
H
E
TEAM CONNECTICUT
0
0
0
2
0
1
0
3
5
1
BRAKETTES
2
0
1
1
5
0
x
9
11
1
Batteries: Team CT- Edelise Aquino (L) and Jordan Benzaken; Brakettes- Nicole Williams (W, 5-1) and Megan Hodgdon
Homerun- Team CT- Gabby Laccona

1
2
3
4
5
6
7
R
H
E
TEAM CONNECTICUT
1
0
0
0
0
1
1
0
BRAKETTES
2
0
3
1
4
10
9
0
Batteries: Team CT- Jillian Kane (L) and Jordan Benzaken; Brakettes- Abby Abramson (W, 2-0) and Megan Hodgdon
Homerun: Brakettes- Denise Denis (3), Lauren Pitney (1)