Brakettes and Rock Gold to Play Saturday, Sunday after Pair of Rainouts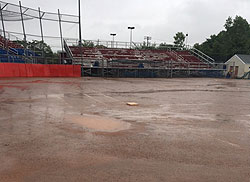 July 14 - After the Stratford Brakettes' Thursday night (vs. CT Seahawks) and Friday night (vs. Rock Gold) games were cancelled due to rain, the club will prepare to take on the Rock Gold (Holland, PA) in a doubleheader on Saturday night at 7:00 at DeLuca Hall of Fame Field. The teams will also match up on Sunday morning at 10:00 in a single contest.

The weather forecast in Stratford for the remainder of the weekend is much more favorable than the last few days, when temperatures soared to close to 100 degrees, then came crashing down into the 60s after torrential downpours and thunderstorms.

Manager John Stratton will have his entire pitching staff available for the first time this year with Brandice Balschmiter (6-1), Nicole Williams (7-1), Abby Abramson (3-0), and Kaysee Talcik (2-1) all expected to see action.

Rock Gold, coached by veteran Rick Waye, recently participated in the World Cup of Softball in Oklahoma City and finished with a 4-2 record, including a victory over nationally fourth-ranked Texas Glory. They lost to eventual champion Batbusters of Orange County, CA.

Stratford and the Rock Gold already faced off five times on Opening Weekend, with the Brakettes taking four out of the five decisions. The Rock Gold will depart early next week for an 18-Under Gold National Invitational Tournament in Southern California.

The Brakettes will be selling tickets throughout the weekend for their exhibition game on July 23 against the Bridgeport Bluefish at the Ballpark at Harbor Yard.

All three games (Saturday night and Sunday morning) will be live video webcast at brakettes.com.