Brakettes Produce Clean Sweep of Rock Gold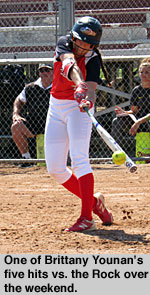 July 17 - Nicole Williams threw the Brakettes' third-straight one-hit shutout, leading the team to an 8-0, run-rule shortened victory over the Rock Gold on Sunday morning at DeLuca Hall of Fame Field. Stratford's bats exploded early in the contest, putting up six runs in the bottom of the first.

The Rock Gold's only true threat came in the top of the first, when Syd Stevenson led off with a walk and stole second. Morgan Petty also walked with two outs, putting two runners on, but Williams picked up a big strikeout to retire the side.

Val Suto led off the home first with an infield single and moved up on a base hit by Brittany Younan. Both runners advanced a bag on a wild pitch, and then a walk by Denise Denis loaded the bases for the Brakettes.

Jolie Duffner grounded into a 5-2 fielder's choice, which saw Suto forced out at home, but the Brakettes still had the bases loaded with one out. Lauren Pitney followed and was hit by a pitch, sending Younan home with the game's first run. Hannah Cooper also grounded into a force at home, on which Denis was retired.

With two outs and the bases still juiced, Jenn Vazquez roped an opposite-field single to right, scoring Duffner and Pitney for a 3-0 Stratford lead.

Gabby Laccona came up next and delivered a single to centerfield, scoring Cooper from second for a 4-0 margin. Courtney Cashman followed and ripped a single to right, plating two more, including Laccona, who scored all the way from first on the play.

The Brakettes' 6-0 advantage gave Williams (8-1) more than enough to operate, and she made quick work of the Rock Gold. She struck out five and walked two, and surrendered only a fifth-inning single to Katie Falatico along the way.

The Brakettes extended the lead in the third inning, when Duffner led off with a double. She took third and home on a pair of wild pitches to push the margin to 7-0.

Suto again set the table in the bottom of the fifth, planting her third base hit of the day in left field. Suto stole second and went to third on a passed ball, and came home with the decisive run on a single by Younan, her second of the matchup.

The Brakettes return to action on Thursday night at 7:00 against the CT Seahawks. Stratford will also take on the Dutchess (N.Y.) Debs in a pair of doubleheaders on Friday and Saturday nights at 7:00.

The Fourth Annual Battle of the Sexes between the Brakettes and Bridgeport Bluefish (minor-league baseball team) will take place on Sunday night at 7:00 at the Ballpark at Harbor Yard, in Bridgeport, CT.

All 2017 Brakettes games are live video webcast at brakettes.com.

10:00AM Sunday morning, July 16th
vs. Rock 18 Gold (PA)
1
2
3
4
5
6
7
R
H
E
ROCK GOLD
0
0
0
0
0
0
1
0
BRAKETTES
6
0
1
0
1
8
10
0
Batteries: Rock Gold- Ashley Worrell (L) and MacKensie Compton; Brakettes- Nicole Williams (W 8-1) and Jenn Vazquez