BRAKETTES HOST SEAHAWKS, DEBS BEFORE BATTLE OF SEXES IV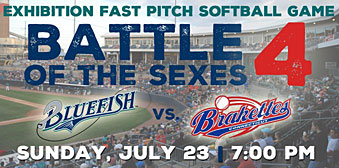 STRATFORD, July 19 - Playing their best softball of the season, the Stratford Brakettes open a six-game homestand Thursday against the Connecticut Seahawks 18U Gold at 7 p.m. at Frank DeLuca Hall of Fame Field. The Brakettes then play the Dutchess Debs Friday and Saturday in 7 p.m. twin-bills before Sunday's exhibition against the Bridgeport Bluefish.

The Battle of the Sexes IV takes place at the Ballpark at Harbor Yard at 7 p.m. Sunday as the Brakettes attempt to end a three-year losing streak.The Brakettes have tickets on sale for the game.

Entering Thursday the Brakettes own a 9-game win streak and carry a 21-3 overall record. Manager John Stratton is expected to utilize his entire pitching staff against the Bluefish, who will rely upon veteran men's major softball pitcher Nick French, who has been coaching women's college softball for the past decade. Brandice Balschmiter (7-1), Nicole Williams (8-1), Kaysee Talcik (3-1) and Abby Abramson (3-0) will divide the action. Only Balschmiter has pitched against the Bluefish.

"When Jaime Toole (former Bluefish general manager) called me to get him a pitcher for the inaugural contest in 2014, I contacted one of our friends in Pennsylvania. He recommended two pitchers to us, one was a 50-year old rather portly fellow and the other was Nick, who had already led a team to a National ASA Class A championship. I said give us Nick, which looking back was a good pick for the Bluefish and a bad one for us," joked Brakettes GM Bob Baird.

The majority of this year's team will be seeing the hard-throwing left-handed French for the first time. Only six players from last year's Brakettes team are back.

Paul Crisci's Seahawks are one of the region's top gold clubs, featuring several players from Masuk High School's SWC championship squad, including pitcher Samantha Schiebe and SWC tourney MVP Alexa Bacoulis. They have been bolstered by some members of their former 23U squad, including UConn pitcher Katie Koshes.

The Debs finished third in the eighth annual Women's Major Softball National Championship tournament last August at DeLuca Field, losing a pair of 2-1 games to the eventual runner-up St. Louis Saints. They are16-1 thus far with two tournament championships on their resume.

This year's WMS event is August 10-13 at DeLuca and Short Beach fields and tournament passes are on sale at all Brakettes home games.