Saturday Night
Pitching, Defense, Walks Key to Brakettes 7-0, 4-0 Wins v. Lyons Spirit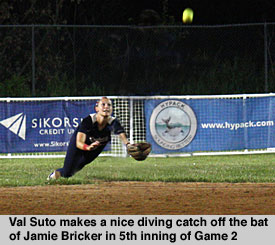 July 30 - by Ilan Woll - Flush off their victory in the Battle of the Sexes, the Lyons Spirit came to town looking to continue off of their last game against Brakettes, where they won 6-3 in mid-June. For Saturday night's opener, the Spirit introduced a new pitcher, Bekah Slattery of Lock Haven University against Brandice Balschmiter.

Karen Bauer led off the inning with a soft liner to leftfield which looked like it might fall in. However, Noel Lent charged in and made a shoestring catch to prevent a leadoff hit. Brandice Balschmiter then retired the next two hitters.

Val Suto led off the Brakettes in the first with a walk, and was bunted to second by Brit Younan. Denise Denis and Jolie Duffner then walked. Bekah Slattery then struck out the next two batters to escape the first.

After a second inning where Jessica Strong had a leadoff single and reached third, the Brakettes batted around, with two walks followed by singles by Suto, Younan, Denis and Duffner to plate five runs.

The Brakettes added a run in the fourth when Britt Lampert walked, reached second on a single by Suto and, following a walk to Denis to load the bases, Duffner hit a long fly to left, scoring Lampert on the sac fly.

The final run came in the fifth when Hannah Cooper walked and was replaced on the bases by Gabby Laccona. Following another walk, Tatum Buckley drilled a single to center, scoring Laccona for the final run.

Balschmiter meanwhile was dominant, allowing just two hits (both to Jessica Strong) and two walks, while striking out four and improving her record to 10-1. The Brakettes drew eleven walks in the game, with Val Suto and Jolie Duffner having multi-hit games.

For game 2, Abby Abramson faced the veteran Liz Gall, After Abramson struck out the side, Val Suto led off with a single to center, followed by Brit Younan legging out an infield hit. Denise Denis then sacrificed the runners along, with both scoring as Jolie Duffner singled to center. A Jenn Vazquez single then scored Duffner.

Lyons threatened in the second as former Brakette Jackie Catanese Klahold singled to left, reaching second as Bekah Slattery singled to put two runners on, and a line drive to left looked like it would continue the inning, but Gabby Laccona, playing left field, made a very quick throw to third, forcing out Klahold at the base.

After threatening in the second and third frames, the Brakettes got some insurance in the fourth. Megan Hodgdon walked, followed by a fielder's choice to put Suto on base. A walk to Denis advanced Suto, and a Duffner shot to left produced the run.

Karen Bauer threatened to bring Lyons back with a double to leftfield, just bouncing off the fence (this was the only extra base hit for either team). However, following a line drive to Abramson, a strike out, and a ground out to Younan, the game was over.

Abby Abramson (6-0) was stellar, allowing only three hits and one walk, while striking out eight. Meanwhile, Val Suto, Brit Younan, and Jolie Duffner each had two hits in the victory. No Brakette had an extra base hit on the day, but drew 15 walks between the games.

The Brakettes return Sunday at 10am against the Spirit and then go to Lyons next week playing round-robin games with the Spirit and the New York City Havoc. All Brakettes games with be webcast on brakettes.com.

Saturday night, July 29th vs. Lyons Spirit
First Game, 7:00 PM
Second Game

1
2
3
4
5
6
7
R
H
E
LYONS SPIRIT
0
0
0
0
0
0
0
0
2
0
BRAKETTES
0
5
0
1
1
0
x
7
7
0
Batteries: Spirit- Bekah Slattery (L) and Jessica Strong; Brakettes- Brandice Balschmiter (W, 10-1) and Hannah Cooper

1
2
3
4
5
6
7
R
H
E
LYONS SPIRIT
0
0
0
0
0
0
0
0
3
0
BRAKETTES
3
0
0
1
0
0
x
4
8
0
Batteries: Spirit- Liz Gall (L) and Sarah Maulorico; Brakettes- Abby Abramson (W, 6-0) and Megan Hodgdon