Brakettes Capitalize on Wildness to Sweep Road Trip with Run-Rule Victories over Spirit, Havoc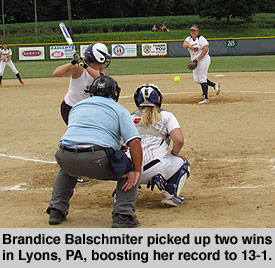 Aug 7 - by Ilan Woll - Following their success on Saturday, the Brakettes looked to extend their dominance in Lyons, PA in preparation for the WMS championships in one week. Brandice Balschmiter took the circle against Lockhaven University's Bekah Slattery, representing the Lyons Spirit.

Val Suto led off the game beating out a ground ball to third for an infield hit. Following a Brittany Younan walk, Denise Denis slapped a single to load the bases. The Brakettes then took advantage of some control difficulties as Jolie Duffner, Gabby Laccona, and Casey Harding all walked in runs, making it 3-0.

Elaine Bedell singled in the bottom of the frame, but did not score.

Denis added another run in the third with a walk. She advanced on a Lauren Pitney single, scoring on a soft ground ball by Harding for the four run lead.

Stratford added three more in the fourth as Alexis Bazos walked and was advanced on a sac bunt by Suto. Younan singled, scoring Bazos. Denis then walked. Jolie Duffner launched a long fly to centerfield which was caught, but scored Younan. Pitney then walked, and Laccona reached on an error to load the bases. Casey Harding again saw ball four to bring in a run, the fourth Brakettes run via the bases loaded walk, for a 7-0 lead.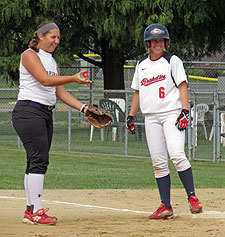 Lyons picked up a run in their half as Karen Bauer walked. Elaine Bedell then drove a liner to center, advancing Bauer to second. Jessica Strong then drove a single into the gap, scoring Bauer to put the Spirit on the board. This ended a Brakettes eight game streak of shutting out their opponents.

Bazos capped off the win with a single in the fifth. Suto then legged out a chopper in the infield. After an infield error, Younan reached base, scoring Bazos. Denise Denis hit a long fly to Bedell, which scored Suto to secure the 9-1 victory.

Brandice Balschmiter (13-1) struck out six and allowed just three hits, walking one. Val Suto and the Spirit's Elaine Bedell each had two hits. Nine Brakettes earned free passes via walks. Denis Denis scored three runs while Casey Harding drove in three.

For game 2, Kaysee Talcik faced off against the Havoc's Nicolette Trapani, pitching at the College of Staten Island.

Val Suto started the game with a single, reaching second on a wild pitch. Brit Younan then advanced her to third. Jolie Duffner's walk loaded the bases. However, a wild pitch then scored Suto, and a Lauren Pitney sac fly gave the Brakettes the early 2-0 lead.

Stratford tore things open in the second as Casey Harding was hit by a pitch, and an outfield error put Megan Hodgdon on base. Two wild pitches then scored Harding. A walk to Hannah Cooper and a fielding miscue put Alexis Bazos on base to load the bases. Suto then lined a singled to left, scoring Hodgdon, and Younan plated two with a bloop to center. A drop went past the catcher, scoring Suto and a throwing error brought in another run. Denis then scored on a passed ball making it 9-0.

An additional four runs scored in the third as Hannah Cooper singled to center. Then, with two outs, Suto walked and Younan lined a ball to center to load the bases. Another wild pitch brought in Cooper, and a Denise Denis line drive single scored Suto and Younan. Nicole Williams, pinch hitting for Duffner, hit a hard, bad hop single to short. Pitney finished off the scoring with a ground ball up the middle to bring in Denis for the thirteenth run.

The Havoc would not go quietly however, as Brenna Martini tripled into the right centerfield gap. A sac fly by Taylor Crofts scored Martini. However, by run rule, the game ended after four innings with a 13-1 victory for the Brakettes.

Kaysee Talcik (5-1) allowed only the one hit to Brenna Martini, while striking out seven against one walk. The Brakettes took advantage of seven wild pitches and a passed ball, accounting for five of their runs. Brit Younan led the team with three hits, while Denise Denis added two. Suto and Brit Younan each scored three times.

The Brakettes return to action Tuesday with a split double header against two Midwest teams which will also be playing in this weekend's Women's Major Softball National Championships-- the St. Louis Saints and Bloomington (IL) Lady Hearts. Those wanting to volunter for the WMS can also speak to Bob Baird at the game. The games will start at 6:30pm and be broadcast on Brakettes.com.

Sunday morning, August 6th at Lyons (PA) Round-Robin
First Game, 10:00 AM - FINAL
Second Game, 12 Noon - FINAL

1
2
3
4
5
6
7
R
H
E
BRAKETTES
3
0
1
3
2
9
6
0
LYONS SPIRIT
0
0
0
1
0
1
3
3
Batteries: Brakettes- Brandice Balschmiter (W, 13-1) and Hannah Cooper; Spirit- Bekah Slattery (L), Jenn Shellhammer (5) and Jessica Strong

1
2
3
4
5
6
7
R
H
E
NYC HAVOC
0
0
0
1
1
1
4
BRAKETTES
2
7
4
x
13
7
0
Batteries: Brakettes- Kaysee Talcik (W, 5-1) and Megan Hodgdon; Havoc- Nicolette Trapani (L), Erica Molinaro (2) and Amanda DiLeo