BRAKETTES FACE SAINTS, LADY HEARTS IN PRE-WMS TOURNAMENT ACTION TUESDAY

STRATFORD, Aug 7 - Two of the pre-season favorites for the ninth annual Women's Major Softball National Championship will provide stern tests Tuesday for the seven-time defending champion Stratford Brakettes at Frank DeLuca Hall of Fame Field. The Brakettes face the St. Louis Saints at 6:30 p.m. and then take on the Bloomington Lady Hearts at 8:30 p.m.

"It should be a great tournament," said veteran Brakettes Manager John Stratton. "The Saints and Lady Hearts are two of the best and they've always given us fits." Nine ballclubs will battle for the crown starting Thursday with games on tap at both DeLuca Field and Short Beach Rec Complex. Action starts at 1 p.m. at DeLuca.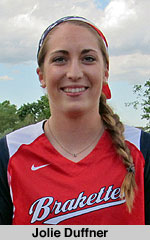 While Stratton prepares his ballclub for action, there is one Brakette player who is very familiar with both clubs. First-year infielder Jolie Duffner of Jefferson City, MO, was the star of the Saints the past two years before joining the Brakettes this year.

A redshirt sophomore at the University of Missouri, which plays in the ultra-talented SEC, Duffner contacted Stratton within a week after the Brakettes beat the Saints in the 2016 WMS 'if' game by 1-0. That followed a 1-0 Saints win. Duffner had the blessing of long-time Saints Manager Ed Martz. "She wanted to play with the best and we encouraged her to do so. It looks like she's fit in really well," said Martz, now in his 63rd season of managing women's fastpitch softball.

Duffner has divided her time between shortstop, first base, and designated hitter as Stratton has an overabundance of infield talent. After starting a bit slow, she has steadily spiked her average to a season-best .418. The left-handed cleanup hitter leads the club with 51 RBI. She gets plenty of help as the top three hitters, two-time batting champ Val Suto (.481), rookie Brittany Younan (.506) of Boston University via Chico, CA, and all-time home run champ Denise Denis (.452, 42 RBI) are great table setters. And they are all left-handed hitters.

"Jolie was an absolutely great addition to our ballclub," said Stratton. "The sky is the limit with how good she can be. And she's an even better person." Duffner has been a major factor in the Brakettes 23-game win streak and 35-3 record.

Stratton will utilize three pitchers Tuesday night with Nicole Williams (10-1, 2.80 ERA), Kaysee Talcik (5-1, 1.94) and Tatum Buckley (1-0, 0.00) available. Ace Brandice Balschmiter (13-1, 0.86) will not be in town until Thursday and rookie Abby Abramson's season (6-0, 1.44) is over. "Abby's family had already committed to a vacation in Aruba before we invited her to play for the Brakettes. I told her dad that I would be happy to trade places with her," joked Stratton.

The Saints enter with a 20-7 record which includes three invitational titles, while the Lady Hearts of Mike Ginger sport a 27-10 record with the Bloomington-Normal and Pekin Invitational crowns to their credit. The teams met 11 times this summer with the Saints winning six games, including four of the last five.

Tuesday night is Town of Stratford Night with all town residents admitted for free. WMS tickets will be on sale at the gate, which opens at 5:30 p.m.