WOMEN'S MAJOR SOFTBALL TOURNAMENT FEATURES 7 STRONG TEAMS

By BOB BAIRD
WMS Tournament Director

Let's Make Softball Great Again!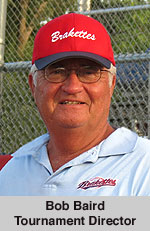 That is the message on one of the Stratford Brakettes tee-shirts this year. Is there reason to believe that the game needs a makeover? In the opinion of this author, the answer is a resounding yes.

The seven-team field for the 8th annual Women's Major Softball National Championship tournament is outstanding. The seven ball clubs are doing their part to keep this game going. But that is not the case throughout the country. There are pockets of support, but there are too many areas that once were fertile for softball that have become wastelands with grass-strewn diamonds, backstops in disrepair, and nothing that resembles a hint the sport has ever been played.

It is hard to believe with the thousands of young girls who play on ASA and travel ball teams in the summer. Softball's popularity in high schools and our colleges is at an all-time high. What happens when these young ladies graduate from high school and college? Where have they gone?

For twenty-three years I covered the former Raybestos and Hi-Ho Brakettes for the Bridgeport Post-Telegram before taking over as the team's general manager in 1988. The Brakettes didn't have to travel very far to find good competition. There were women's major teams in Bridgeport, West Haven, Milford, Stamford, Norwalk, New Haven, Waterford, Waterbury, East Hartford, and Danbury. Now they are just fond memories.

In those days, the softball season began Memorial Day weekend and for those fortunate enough to make the nationals, it continued until the first week in September. Nowadays teams form to compete in three or four weekend tournaments and call it a season.

The ASA National Tournament, the sport's cornerstone summer event, actually had a qualifying system with teams needing to go through district, state, and regional competitions to get a chance at advancing to play for a national championship. Whenever the tournament was played in Stratford at Raybestos Memorial Field, the teams, players, and coaches were treated like superstars.

The ASA Women's Major ASA tourney has disappeared. Even before its demise, it wasn't functioning as it once had. It is part of the reason why the WMS was formed. Our goal was to make this tournament a destination point for the softball world; something the players, coaches, and fans would embrace.

The seven WMS participants are all solid softball teams. The field could have reached an all-time high of 14, but late cancellations and the realization of coaches that too many of their players couldn't make the commitment, rendered their participation impossible. There's no reason to lament what could have been. Instead, let's come out and root for those teams and players - Stratford Brakettes, St. Louis Saints, NYC Havoc, Lyons Spirit, Dutchess Debs, Connecticut Seahawks, and Team Connecticut - who are making a difference. Hopefully, those continued efforts will Make Softball Great Again!