It is what it is!

By BOB BAIRD
WMS TOURNAMENT DIRECTOR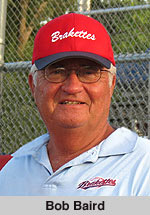 The 9th annual Women's Major Softball National Championship features 9 teams this year. Let's see, that's more than 2016, but way less than in the softball heyday of the 1970s through 1990s. CNN would characterize it to as a glass that is half full, while Fox would say the glass is half empty. Here's how I see it: "It is what it is." I really hate that phrase!

Last year in this space, I lamented the fact that women's softball, especially summertime adult women's softball, is teetering on the 'endangered species' classification. It's hard to believe with all the promising talent in youth leagues through college. Yet, let me say it again, "It is what it is."

Summertime softball at the adult level has no true national appeal. There are pockets of support that are resisting the temptation to pack it in. Remember the great softball venues in Portland, OR, Sun City, AZ, Orlando, FL, Santa Clara, Redwood City or Orange, CA, and Decatur, IL, to name a few? Gone, gonzo, adios baby, sayonara, with many of the playing sites now parking garages or strip malls.

The Midwest, once a hub of softball prowess, has been transformed into a succession of weekend tournaments in Millstadt, MO, Pekin, IL, Bloomington, IL, and East Peoria, IL, with the same four teams competing at each venue.

We, the Stratford Brakettes, are oblivious to change. We prefer the old way, playing a regular-season with scheduled doubleheaders each Thursday thru Sunday at DeLuca Field. There's just one problem. We, too, are running out of opponents. Rather than succumb to the fact that "it's not what it used to be" we have taken a quote from Clint Eastwood's movie Heartbreak Ridge and run with it-- "…improvise, adapt, and overcome."

Scheduling opponents in the 23U and 18U Gold divisions is the way to go. They are still charged up and looking for the challenge, just like the WMS. This year's field is, without argument, the finest ever assembled since the ASA Women's Major folded after the 2008 tournament in Buffalo. There are teams from six different states and only the Brakettes and Connecticut Eliminators from the Nutmeg State.

Didn't someone say that quality is always preferred to quantity?

All nine teams are capable of winning this year's WMS championship. That's something no one could say during the heyday of the sport twenty, thirty or forty years ago, not with the Brakettes, Orange Lionettes, Sun City Saints, Erv Lind Florists, Orlando Rebels, etc., etc. ,etc.

St. Louis Saints are five-time runners-up and the NYC Havoc won the inaugural event in 2009. Lyons, PA, Spirit is the only nine-time participant, other than the Brakettes. The Jersey Fusion and CT Eliminators have fared well in past WMS play, while the Bloomington Lady Hearts, Nook 23 Gold of Manheim, PA, and Stripes & Strikes from Hazelton, PA, have multiple tournament championships already this summer.

Remember, it's not the same as it once was, and it's not going to change, so get used to it. And, at the same time, enjoy some outstanding softball.